Humax HDR-1000S Freesat+ recorder with FreeTime
TV from space, time travel by broadband
The weakest link?
The current Freesat UI does not currently support sharing or offloading the hard disk's TV or radio recordings (hopefully one day it will), but its extra multimedia options already give it an advantage over YouView hardware for now.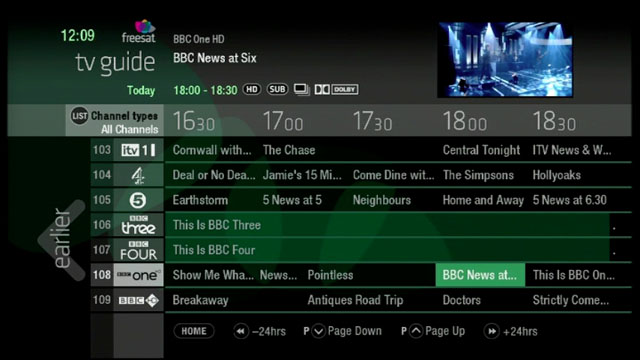 Freesat's new on-screen menus are very appealing, as far as PVR user interfaces usually go
Like most feature-rich DVRs, things do not always run smoothly. During the two-week test period the HDR-1000S occasionally froze when going into or out of the media player and iPlayer (unrelated to internet speed). At least one series link was also "broken" – skipping an episode that was definitely shown – and one or two recordings got clipped, although these could be due to broadcaster metadata hitches. If you don't trust the machine at any time, there is a manual timer, albeit heavily concealed.
Verdict
The Freesat platform has evolved to the point where it's a viable alternative to Freeview in terms of the number of channels available. If you're not bothered about premium content (or can't afford it), it's a respectable option for thrifty telly fans instead of Sky, Virgin Media, BT and TalkTalk TV.
It's a confident step forward for Freesat, and there's much to like. The menus are great to look at and a pleasure to use, apart from the recordings section, which is less polished. You get a more fully developed interface with Sky+, admittedly, but that's had more than a decade to mature.
Inevitably there are bugs to fix, but our review sample was generally less glitchy than the YouView box at launch. When this new-generation Freesat DVR gets a full complement of on-demand options, it'll be an even more serious contender. ®
More AV Reviews

View 21
IPTV
Freeview+HD DVR
Ten... monster TVs
for all budgets
Build a bonkers
Hi-Fi
Apple TV
2012
Humax
YouView
DTR-T1000
Sponsored: What next after Netezza?

Humax HDR-1000S Freesat+ recorder with FreeTime
HD personal video recorder for Freesat with 500GB hard disk and catch-up TV.
Price:
£280 (500GB), £299 (1TB) RRP