Humax HDR-1000S Freesat+ recorder with FreeTime
TV from space, time travel by broadband
Content management
The menu redesign doesn't help when managing your recordings list. It's slightly confusing, erratic and, like Virgin Media's TiVo, involves a few too many button presses, especially compared to the more straightforward Sky+.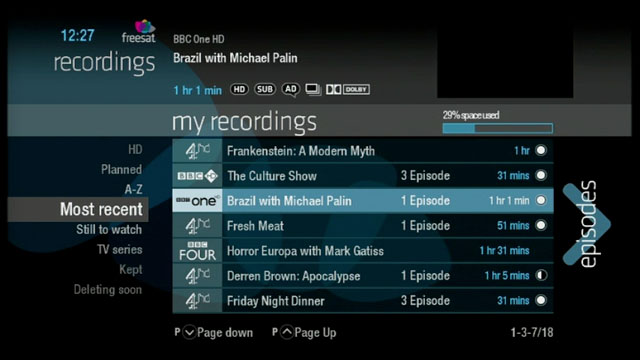 Recordings can be sorted by date, name or still-to-be-watched, among other options
It's likely that some pay-per-view content could appear on the Freesat platform for on-demand programmes and movies, though it's not clear which companies may provide this. The box has a Common Interface slot in case pay channel options are ever added.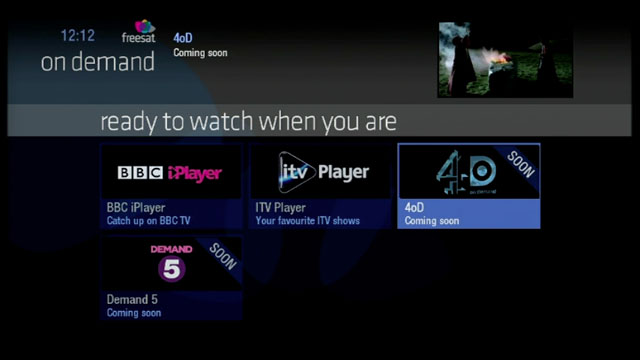 Catch-up TV can be accessed from the programme guide or from this menu
The FreeTime system uses elements of HTML 5, Open IPTV and HbbTV (Hybrid Broadcast Broadband TV), the specification for connected-TV devices commonly used in Europe. It means that other online services could be added to Freesat using this generation of boxes without too much development time, especially if service providers already offer something similar elsewhere.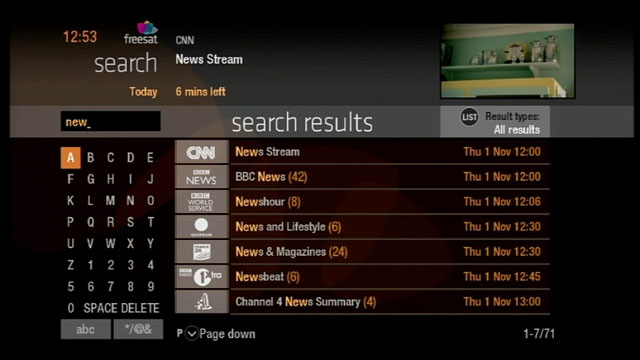 The search feature lets you plan future recordings for TV and radio
The picture quality is excellent and generous bitrates result in a better looking image than on Freeview for the main standard-def channels. The box also has a decent scaler to nudge SD closer to HD. Freesat's actual number of HD channels is only five, comparable to Freeview HD, but with potential for many more. Freesat also avoids the bulk of the interference that 4G/LTE mobile broadband signals may inflict on digital terrestrial TV in parts of the UK.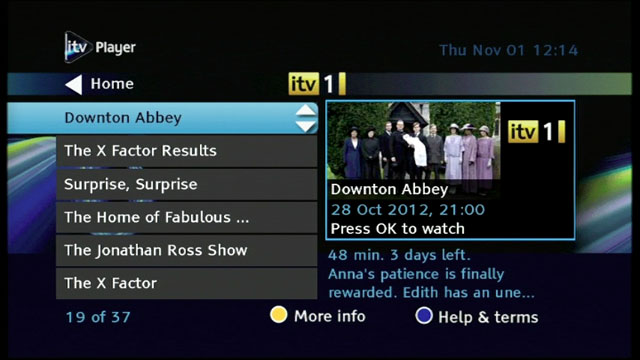 The ITV Player app is not as sophisticated as the Beeb's iPlayer
The box's iPlayer feature is slick and offers HD if the programme supports it. The more basic ITV Player looks blurred in comparison. Like YouView (and in contrast to iPlayer on Sky+, PCs and mobile devices) you can only stream catch-up content rather than save to disk.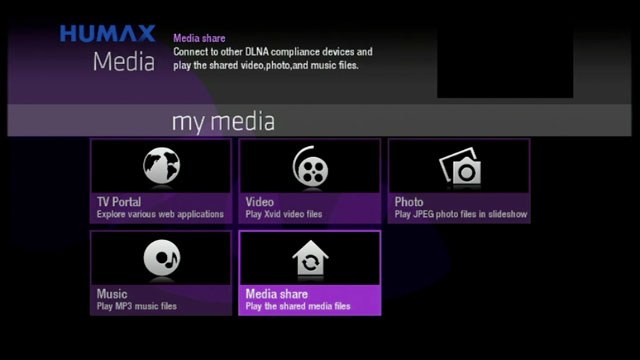 The box will also play various multimedia files from USB, hard disk or your network
Rather hidden away under the Humax label on the Home screen is the box's section for playing multimedia from USB (or copies moved to HDD) and shared DLNA devices, plus web services such as Flickr and Picasa (and not much else). The video icon names XVID/AVI as the supported format but it handles a decent range of alternatives too, including WMV, TS, MP4, M4V and MKV, though HD video fared better from USB than over the network. For audio files, however, it is just MP3.
Sponsored: Detecting cyber attacks as a small to medium business