LOHAN to slip in sexy little black number
Two is one, one is none for rocketgasm success
Our Low Orbit Helium Assisted Navigator (LOHAN) electronics team are rubbing their hands in anticipation of the imminent arrival of our spaceplane mission's PCB - a sexy black number lovingly crafted in the distant land of China.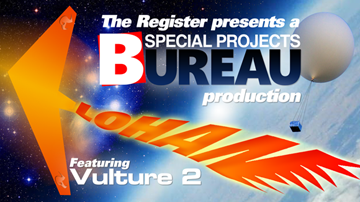 Anthony Stirk and Neil Barnes have put in some serious graft designing a custom board based on Anthony's Swift High Altitude Ballooning (HAB) system, but which is completely reworked to accommodate LOHAN's needs.
We're obliged to Mitch Davis of Hackvana for the rapid turnaround on this vital component. Anthony says Mitch does a top-notch job "supplying cheap high quality PCBs to the hobby community", so please join us in raising the traditional pint to him for his efforts.
Mitch was kind enough to throw over a snap of the board before shipping it out, and here it is for your viewing pleasure, in all its shadowy glory: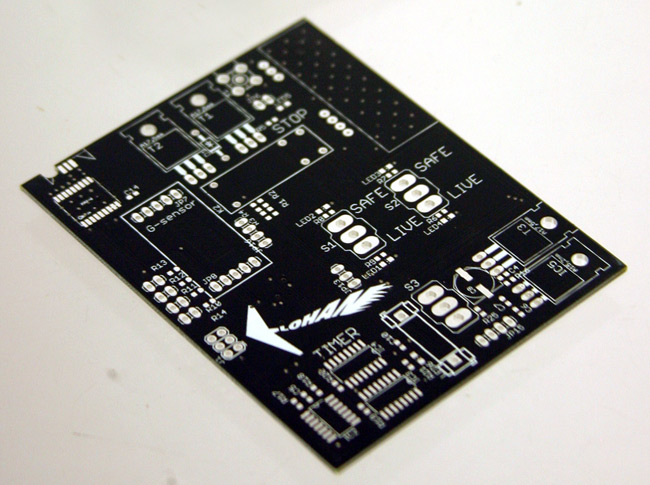 Once the beast arrives, Neil Barnes will get down to soldering on the components: an ATMega644 microprocessor, uBlox MAX-6 GPS, NTX2 radio module, ADXL345 3-axis accelerometer, SD card connection, three temperature sensors, and an interface to communicate with the RockBLOCK Iridium satellite comms module.
The board's job is to fire the Vulture 2's rocket motor at a predetermined altitude, as detected by the GPS. At the critical moment, two transistors (for redundancy) will close a relay between Rob Eastwood's custom igniter and an independent 12V supply.
Given the fairly monstrous nature of the proposed Vulture 2 thruster, safety is a major consideration. Neil recently explained: "It will fire if the current altitude is above 20,000 metres (to be clear of air traffic) and we achieve the desired launch height."
Neil has also concocted a series of LEDs and switches which will minimise risk. He elaborated:
For launching we enable things a step at a time. If at any time, we don't see the lights we expect, and in particular if we see the 'STOP' light, we abort. We start with the power disconnected from the board and the igniter cable disconnected.

Set all three switches off - this should give two yellow 'SAFE' lights. It disconnects power from both the relay coil and the relay contacts, and resets and stops the timer.
Turn S1 on: this powers the coil side of the relay and sets its red 'LIVE' light.
Turn S2 on: this powers the contact side of the relay, and sets its red 'LIVE' light. If there is a contact fault in the relay, this will light the 'STOP' light. That indicates that the igniter contact is live; it's a bad idea to attach the igniter at this point.
If we're happy with just two red lights, we can attach the igniter.
The final act, just before we launch, is to turn S3 on which starts the timer - look for a flashing 'TIMER' light - and two-and-a-half hours later the fuse blows.
The timer safety feature is just in case the motor doesn't fire, and the aircraft comes down with the truss. Specifically, according to Neil: "At two-and-a-half hours, more or less, it will trigger the crowbar silicon-controlled rectifier, which will stick a dead short across the igniter batteries and hold it until it drops to zero. Either the fuse blows, the circuit board tracks melt, or any weak links in the wiring break... or eventually the battery goes flat. In any case, there is now no charge available to fire the rocket, if it's still present."
For the electronics aficionados among you, we'll have detailed look at the board and just how it works as soon as the bits and pieces are attached.
In the meantime, we have one vital matter to resolve: just what to call our black beauty?
You'll recall that we've already rejected several sniggering schoolboy backronyms, including Balloon Or Orbital Ballocket Ignition Electronics System (BOOBIES) and Stratospheric Launch Apparatus Providing Pre-ignition to Experimental Rocket (SLAPPER).
Our call for rather more plausible suggestions from our beloved readers prompted yet more tomfoolery (Timed Window Altitude Trigger, Crucial Orbital Ignition Trigger Unmanned System, and Controls Orbiter Kinetic Engine Height Enabled Activation Device, for example), although we can see light at the end of the tunnel.
Among those which caught our eye are Three-Axis Ublox-based Location & Ignition System Assembly (TULISA) and Special Project Electronics Altitude Release System (SPEARS). Less may be more, though. Try DUI ("Deny Unintended Ignition" or "Device assisting Uplift and Ignition"), or our current fave, the DUI-related: BAC ("Ballocket Assist and Control unit").
Well, there's still time for more input before we put the thing to the final public vote, so if you're feeling inspired... ®
---
Further LOHAN resources:
---

Sponsored: Becoming a Pragmatic Security Leader