EU proposed emergency alert system won't work on iPhone
Zombie attack? Don't worry, you'll be notified. Silently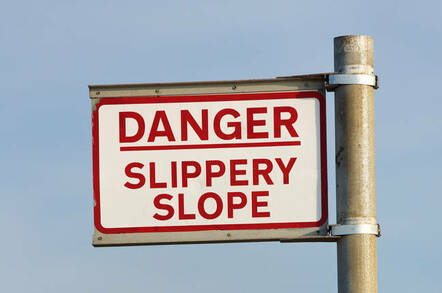 Europe is shuffling towards an international agreement on emergency alerts delivered to our mobile phones, but if current plans continue you might not ever know you received one.
The idea is being discussed today at the European Emergency Number Association (EENA) with various industry and government reps in attendance, but once they agree they'll likely be mandating an alert mechanism which won't audibly alert half the population, and could leave iPhone users to the mercy of the encroaching zombie horde as their handsets don't seem to get the message at all.
iOS 6 has some support for the Cell Broadcast mechanism the EU wants to make available to national emergency services, though it's better at responding to the US WEA system messages which alerted residents of the impending arrival of Hurricane Sandy earlier this month. The US system only went live in May and only works on the more-recent handsets, but is already proving valuable.
Cell Broadcast should be a better mechanism - it's part of the GSM standard though not implemented by every operator and not supported by every handset. The idea is that a GSM (or 3G) base station can send out a message to every handset attached to it, with the handsets deciding if they want to receive or ignore the message based on user preferences, but few handsets sound an audible alert even when a message is received, and support for the standard is far from universal.
Cell Broadcast was once envisioned as a mechanism for delivering cricket scores and other time-critical information which customers might be convinced to pay for, but these days it's hardly used at all, as Vodafone explained to one customer who'd stumbled across the Cell Broadcast settings on a smartphone:
"The option of cell broadcasting is mainly used by network teams when investigating issues and will sometimes be used by emergency services" it said - though hopefully not in an emergency, given the lack of reach.
That's not stopped the Netherlands adopting an emergency alert system based on Cell Broadcast, following trials in 2007 which showed messages reaching around 90 per cent of handsets (and in part motivated by the proliferation of "citizen journalism" which spreads scares and rumour faster than the government can address them, unless the government has access to such a mechanism).
The geographic nature of Cell Broadcast, and the fact that it is not susceptible to overloading, make it an attractive and elegant solution. But some, such as Intersec's Gary Buchwald, argue that SMS can be equally robust, guarantees delivery and sounds an audible alert on every handset.
Intersec makes servers which add geographic targeting to SMS delivery, integrating with the operator's Home Location Register (HLR), which knows the location of every customer all the time. With that data the company can deliver an SMS message to everyone within a specific region, without having to rely on partially supported standards. Cell Broadcast messages are less discerning, so will (for example) arrive on a handset of someone roaming in the area, but neither can it be adjusted to match the language of the recipient.
There's also a question as to whether the SMS infrastructure could support such loading, though Intersec is adamant it could. China Mobile recently boasted it could deliver 25 million text messages, enough to cover the population of Beijing, in less than 10 seconds, which would seem to make Cell Broadcast entirely redundant.
Which is why the Americans have come up with something entirely new for their Wireless Emergency Alerts. Handset support for that system might be lacking now, but US replacement cycles mean messages reaching just about everyone by the end of 2014, and every handset comes with an interface allowing the user to ignore Amber Alerts (missing children) and Imminent Threat Alerts (most likely weather, but could be other disasters) though there's no option to ignore Presidential Alerts should Obama decide to say "hi" to the whole country.
The EU will, most likely, go with Cell Broadcast and try to bully the handset manufacturers into better supporting the standard, though Buchwald reckons they'll have to switch to SMS eventually. That's unless they decide to embrace the US alternative, though EU citizens might not be keen to see their presidential decrees being unstoppable. ®
Sponsored: Webcast: Why you need managed detection and response