What a clockup! Apple's Swiss clock knock-off clocks up $21m fine
Swiss railways laughing all the way to the Swiss bank
Apple has paid 20m Swiss francs (£13m, $21m) to Switzerland's national railway operator, which holds the rights to the distinctive clock-face design used in the new iPad.
Last month Apple agreed to shell out for a licence, but the multi-million-dollar cost only emerged yesterday in a report by Swiss paper Tages-Anzeiger.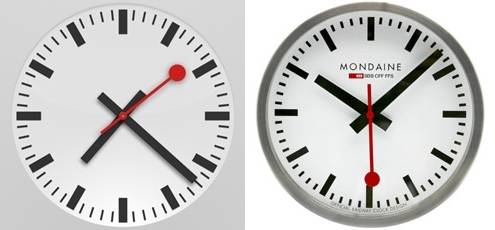 The clock in question: Apple's version, left; the Swiss railway version, right
The Cupertino giant tweaked the look of clock faces shown on iPads powered by iOS 6 by taking out the numbers, adding little black markers and putting a ball at the end of the second hand - a move that's left Apple rummaging its pockets for spare change.
For the Swiss Federal Railway, which last year banked a profit of 339m Swiss francs, and its passengers, a 20m CHF injection will be just the ticket. ®