Fallen flash star STEC sputters: We're cutting our OEM losses
Plays the joker in the PCIe card game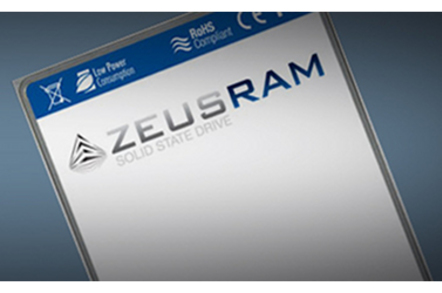 STEC, the once high-flying Fibre Chanel SSD start-up star, is still losing millions, although not as many as before. Its third 2012 quarter numbers show revenues up sequentially.
Revenues were $42.1m, 3.4 per cent higher than the second quarter but a whopping 41.9 per cent lower than the $72.5m recorded a year ago, as the chart below shows - what a fall from grace.
CEO and president Mark Moshayedi talked of "broadening our customer base to a mixed model of OEM, channel and enterprise end-user customers. Our initiatives to tap the sizeable potential of the enterprise markets – comprised of direct or end-user customers - are advancing as we have experienced growth in sales emerging from these customers in the third quarter of 2012...We expect the full benefits of this transition to take place over several quarters... This transformation will not happen overnight, but we are committed to delivering storage solutions to a broader customer base by leveraging our IP and solid state technology."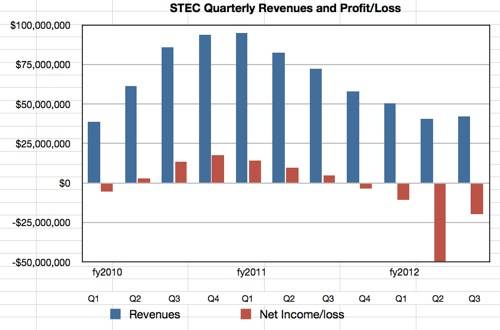 Click on this for a larger version.
No more easy pickings for the first enterprise SSD supplier which squandered its lead over the competition gained from EMC, IBM and other storage array OEM contracts. Now STEC is just another enterprise SSD and PCIe flash card contender, respected for what it once was. But the world is still waiting to decide whether or not to grant it respect for what it is doing now.
Moshayedi was candid and contrite in the earnings call: "We appreciate your patience as we continue to transition from a purely OEM-focused business model to one that also addresses enterprise and end-user customers... The increasingly competitive environments over the past year and the slower-than-expected uptake of our new products with OEMs have made refocusing our go-to-market strategy a top priority. Our transition efforts are designed to enable us to ultimately capture an increasing share of a wider base of potential customers and deliver as much value to them as possible but this transition will not happen overnight. In fact, our pursuit of non-OEM accounts will continue well into next year and is expected to remain a core focus for us going forward."
There are signs for optimism: "Last quarter a non-OEM customer accounted for over 10 per cent of our revenue, a testament that our new diversified strategy is starting to see traction and we hope to see more accounts like that in the coming quarters as our sales team targets various high-growth verticals."
Enterprise customer product qualifications are shorter than OEM product qualification times, but even so the time to returning to profit and them growing the business again is going to be measured in quarters. STEC hopes that enterprise, non-OEM customers account for more than half its business by the second half of 2013.
There were two OEM customers in the quarter that each accounted for more than 10 per cent of the quarter's revenues. We're guessing one is EMC. Stifel Nicolaus analyst Aaron Rakers said he thought EMC accounted for 23 per cent and the other, not IBM, accounted for 22 per cent of STEC revenues; two customers together representing 45 per cent, nearly half, of the company's sales.
The big enterprisecustomers use STEC's ZeusIOPS SSDs as direct-attached storage, not cache, in a cloud computing application.
The nature of STEC's enterprise customers' activities is that they are building infrastructures needing SSDs as best-of-breed components; acting as their own system integrators in effect. It's not a commodity product sale.
There's no question over the firm's survival. It has $186.2m in cash and cash equivalents and no long-term debt outstanding as of 30 September, 2012. But STEC is in the walking wounded class. It still isn't making good profitable progress with its PCIe flash card products; the competition is very strong there, with Fusion-io, Micron and LSI pursuing OEM and enterprise customers energetically.
STEC's fourth generation ZeusIOPS SSDs are facing strong competition in the OEM market as well. Moshayedi said of this market: "Well, again, there is a competitive nature to this market. Obviously, there are many suppliers now that are focusing on the same customer base. And, the competitive nature of it is that, obviously, they're going to qualify multiple suppliers and whoever has the best cost and whoever they want to give the majority of their business to that's their decision. We are engaged in that market space and we continue to be engaged in that market space and going after those OEMs and we hope that our future generations of products will be cost-competitive and competitive from a time-to-market perspective so we can recapture some of that market share."
Until STEC starts making profits again, it's going to burn cash. CFO Raymond Cook said: "We do look at the cash needs and the requirements going forward for 12 months and have determined that we have adequate cash for at least the next 12 months of operations." That doesn't preclude shrinking the company's cost-base of revenues don't rise fast enough.
Last March STEC revenues were $95m and its operating costs $22m. Now its revenues are $42m and operating costs $29m; sales to enterprise customers compared to OEM ones require more sales heads for a start. Revenues simply have to rise or operating costs go down, meaning significant retrenchment. Moshayedi said STEC execs are "looking at all the options".
The outlook is poorish for the fourth quarter, with revenues of $36m to $40m, lower than the third quarter and with another loss expected, up to $7.8m.
The previous CEO, Mark's bother Manouche, is fighting an insider trading lawsuit against the SEC but hopes to return to the CEO-ship, with Mark Moshayedi saying: "We hope that we can clarify this case with the SEC and get past that and Manouche could hopefully resume his role as the CEO."
If STEC has to contract due to revenues not rising as hoped, then the Moshayedi brothers' stewardship of their company may be called into question and more strategic options for the company examined if it is to avoid further decline, such as bringing in an external, non-family CEO. ®