Bald? Looking old before your time? Don't panic, but you might DIE
It's not the years, it's the mileage, say docs
If you look old, wrinkly, fat-eyed and bald, you might die from heart disease, doctors who spent years researching the matter have said.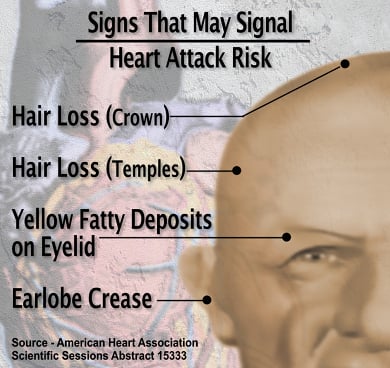 Check out the fat eyelids on him!
In a new study presented to the American Heart Association, the docs claim that people who had three to four ageing signs like receding hairlines at the temples, baldness at the crown, earlobe crease or fatty deposits around the eye had a 57 per cent increased risk of heart attack and a 39 per cent increased risk for heart disease.
The study participants even included women, despite the fact that two different kinds of balding would suggest only men die of heart disease. The researchers analysed 10,885 folks 40 years old and older, 45 per cent of whom were women. Over 7,500 of them were saying goodbye to their front hairline and hello to a lot of forehead, nearly 4,000 were bald on top, 3,405 had wrinkly ears and 678 had fat eyes.
During the 35 years of follow-up, 3,401 of the people developed heart disease and 1,708 had a heart attack.
"The visible signs of ageing reflect physiologic or biological age, not chronological age, and are independent of chronological age," said Anne Tybjaerg-Hansen, MD, the study's senior author and professor of clinical biochemistry at the University of Copenhagen in Denmark.
The researchers assert that heart disease increased with each additional sign of ageing and in a shocking development, the highest risk was for people in their 70s as well as those who had multiple signs of ageing. Fat eyelids were the strongest individual predictor of heart attack and disease. ®