Fujitsu guru: Win 8 will triumph. And we'll have brain plugs in 2027
Quite literally inside the mind of the CTO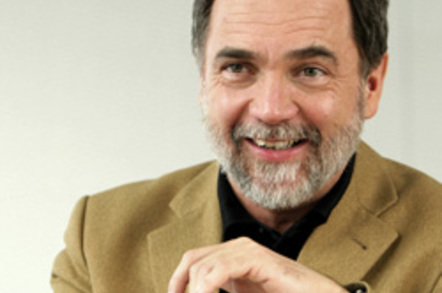 Fujitsu's CTO made a series of fantastical projections on Tuesday, including ditching Google Goggles for direct brain implants and the end-to-end success of Windows 8 in the enterprise.
Joseph Reger, in a session dubbed "What's on the CTO's Mind" at Fujitsu's user forum in Munich, said that while Microsoft had initially pitched Windows 8 at tablet and mobile devices, and consumers, it could not be a success without winning on the corporate desktop too.
If Microsoft thought it was going to knock iOS out on mobile devices, without consolidating its hold on the desktop, he said, "they have a problem."
However, said Reger, business users need Windows 8 to be a desktop success. "Enterprises need Windows 8," he said.
The CTO said that some businesses were clearly managing on Windows 7, while many were still using Windows XP, but in the long term, he said, "backwards compatibility is just not sustainable"."
Looking at the alternatives, Reger said that Mac OS still existed in its client-only bubble. Meanwhile, he added, every year was declared by someone to be "the year of Linux on the desktop", but "it hasn't happened".
He said that as companies are forced to bend in the face of BYOD and deal with the cloud, if a single OS family can do end-to-end security, policy management, sign on, etc: "It's much easier to manage."
The case for Windows 8 enterprise success becomes more compelling when you consider its server variant Windows 2012, which Reger described as "very important".
"What we are finding is it's a great great leap forward ... I'm going out on a limb, but there is no question of whether Windows [Server] 2012 will be a success."
However, one cannot assume Windows 8 on client devices will ultimately succeed, said the CTO. As the fate of OS/2 demonstrated, he said, technical superiority isn't enough on its own.
If Microsoft's new OS got the support from software and hardware developers, and became a true end-to-end proposition, "Then it's a story that's going to be really interesting - but it needs to be a success (on the desktop)."
Looking further ahead, Reger said the "Google glasses" project could only ever be a passing fad - because people will be wiring themselves directly before too long.
Why use your eyes to direct information into the brain, he asked. The CTO predicted that in 15 to 20 years, we will have found ways to direct information into brains. We will probably be walking around with sensors implanted under our skin, he said.
"The glasses are good enough," he said, but "not forever". Sadly Reger gave no indication what operating systems he expected the average human to be running by 2032. ®
Sponsored: Minds Mastering Machines - Call for papers now open