iPhone 5 unlocked US prices placed on Apple website by accident
Just $649 for the phruit-chomp phondleslab
A unlocked iPhone 5 will cost $649 in America, according to listings popping up on Apple's own website which seem to have made it on there by accident.
There are no official results for unlocked iPhone 5s on Apple's site, but a search for "unlocked iPhone 5" reveals a list of prices for the handset, as spotted by Apple Insider: that would make it $649 for the cheapest iPhone, $749 for the 32GB model, and $849 for 64GB.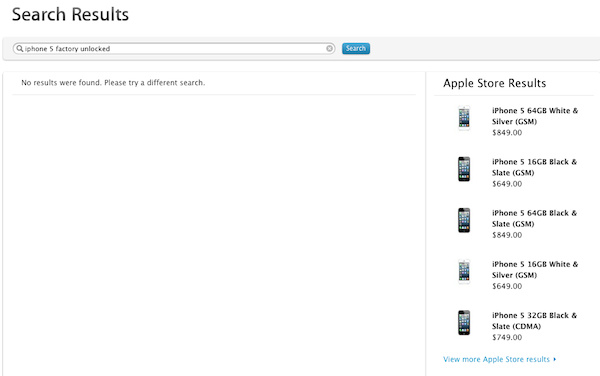 Apple appears to have accidentally published the prices of the unlocked iPhone 5, credit screengrab Apple site
Currently, Americans can only buy iPhone 5s that are locked down to a two year contract: that's a $199 down payment plus a contract with Verizon, Sprint or AT&T.
Outside the US, unlocked iPhone 5s have been available since the release date: in the UK the iPhone 5 starts at £529 for the unlocked model, in Europe it's 679 euro.
There is no way to check this isn't just placeholder text, but the figures accord with prices given from retailers like AT&T which is offering a pay as you go "no commitment" iPhones for $649. ®