TwinStrata wrestles Nasuni in the cloud-gateway Jell-O pool
Aims to twang rival's thong with new CIFS CloudArray
Cloud storage gateway start-up TwinStrata is back with an updated version of its CloudArray product - 4.0. And while it claims the new kit is the first cloud-integrated storage product to natively support both network-attached storage (NAS) and storage area network (SAN) protocols, we think Nasuni might beg to differ...
CloudArray offers an on-premise virtual or physical appliance that caches hot data locally for fast access using iSCSI, and sends deduplicated, compressed and encrypted data off to the cloud storage service supplier of choice so you don't have to own, operate and manage your own disk drive arrays.
The product already supports Amazon S3, AT&T Synaptic, Nirvanix, EMC Atmos, Windstream, Mezeo, Scality and others, or existing NAS storage. A private cloud can also be supported. The caching is re-sizeable as application needs change and can consist of local disk, solid-state, network-attached or SAN storage.
TwinStrata's new product version, CloudArray 4.0, adds:
SMB, SMB2 and CIFS file access support, with NFS promised;
Active Directory integration;
high-availability of on-premise appliance, 2U enclosure with redundant controllers and a base 6TB usable capacity;
an updated GUI and new dashboard for status information "on data stored in the cloud and locally, cache and cloud data flows, and capacity usage in real time";
subscription pricing options alongside perpetual licence;
better multi-tenancy support;
more than 20 cloud service providers supported; and
in-cloud appliance deployments in cloud compute environments to deliver disaster recovery for on-premise environments and primary storage for cloud-based infrastructures. This is available for Amazon EC2, Rackspace, IBM SmartCloud Enterprise and Google Cloud Compute.
First unified file and block cloud storage gateway?
TwinStrata claims: "CloudArray 4.0 represents the first cloud-integrated storage product to natively support both network-attached storage (NAS) and storage area network (SAN) protocols." However, we think that Nasuni might have something to say about that, having added block storage to its initial NAS capability in July this year.
TwinStrata CEO Nicos Vekiarides says: "Today, we are the only solution to natively and completely support both NAS and SAN protocols."
Nasuni CEO Andres Rodriguez said: "Regarding TwinStrata, that's simply not true. We introduced Unified Storage (NAS + SAN) back in July of this year. We are now the only storage vendor to offer mobile device support directly from our controllers in addition to SAN and NAS. The NAS protocol by itself is table stakes. What matters to IT is the functionality that is available from the file system. Nasuni supports file-level snapshots so that you can restore files without the need for backup, and synchronize files across multiple sites without the need for replication. That is what makes the system compelling to our customers."
Nicos Vekiarides retorts: "Nasuni's limited iSCSI implementation requires volumes to reside locally in their entirety. This isn't cloud integrated storage... it's local storage that's copied to the cloud if that... Only TwinStrata allows you to create data volumes that reside primarily in the cloud with a minimal (though dynamically adjustable) local storage footprint and export them as iSCSI volumes or NAS shares. Pretty simple."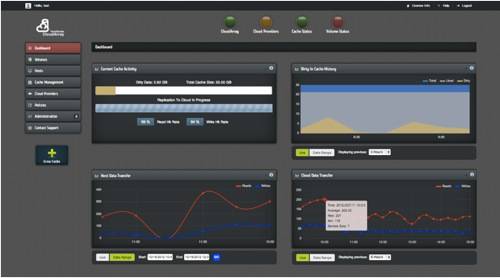 TwinStrata CloudArray v4.0 dashboard
The products
TwinStrata offers a virtual appliance as well as the CloudArray P100, P200 and P300 appliances. The P100 is a 1U enclosure with TB to 6TB of usable capacity. The P200 is a 2U cab with 12 - 60TB of capacity using RAID 6, and the P300, the high-availability configuration, uses the same cab with 6 - 15TB of capacity and RAID 51.
In all cases the maximum cloud storage capacity is 50PB.
The new cloud storage suppliers are Google, HP Cloud Services, Dell, IBM, FX Networks, Cloudian, Connectria Hosting, Ninefold and Securstor.
There are two caching schemes: a thin cache for archival data, and a thick cache for primary data. The cached data means users can continue operations using data stored in the appliance when a cloud network link breaks or there is a cloud service outage.
Base prices based on cache size with perpetual licences are:
Virtual - $5,995
P100 - $4,995
P200 - $24,995
P300 - $49,995
The subscription prices are $0.19/TB with 1TB, 5TB and 20TB minimums for the virtual, P100 and P200 appliances. Inquire at TwinStrata for the P300 subscription price.
Other cloud storage gateway suppliers include:
Avere may join in too, adding cloud storage access to its clustered FXT appliances which come from a filer acceleration starting point.
In terms of the data centre weather forecast, it seems all of these suppliers are betting on cloudy skies... ®