Monitors to grow half an inch in 2013
Sales to go soft as it's what we do with them that counts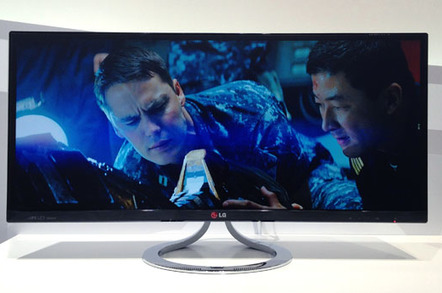 Monitors will grow by about half an inch in 2013, but there's be no sales bulge for resellers according to Taiwanese market-watcher WitsView.
The firm says new manufacturing processes mean it is now just as easy and cost-effective to cut LCD screens 19.5 inches wide as it is to slice them into 18.5 inch slabs. While only one manufacturer – Taiwan's Chimei Innolux - has mastered the trick to date, LG and Acer/Unipac-derived outfit AUO are expected to follow suit as 2013 unfurls.
Today, WitsView says, 44% of all monitors are either 18.5 inches, 19 inches or 20 inches wide. The former two widths are now at risk, as manufacturers take the opportunity to sell a bigger screen at the same price.
But even the prospect of more monitor for your money won't help the industry, the analyst says, as manufacturers and punters alike turn their interest to smaller devices like LCD TVs, tablets and notebook computers. Manufacturers will follow consumers' interests by targeting screens for those in-demand devices, leaving ye olde monitors for desktops a low priority option.
WitsView therefore predicts a decline in monitor shipments for 2013, with the only bright spot being all-in-one PCs. Overall global shipments will reach 165 million, 2.8 per cent down on 2012 numbers.
That's a far smaller number than overall PC shipments, which seems to suggest that fewer PC upgrades involve a monitor upgrade too. ®
Sponsored: From CDO to CEO