Tesla Model S named '2013 Automobile of the Year'
'This thing is silly quick,' said tester after besting a BMW M5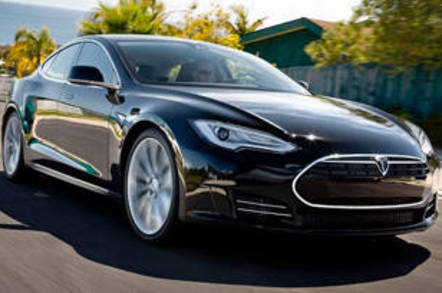 Elon Musk's much-anticipated, long-delayed, taxpayer-supported, company-critical Tesla Model S sport sedan has been named as the 2013 Automobile of the Year by the Motor City–centric Automobile magazine.
"It's the performance that won us over," said the magazine's editor-in-chief Jean Jennings when announcing the award. "The crazy speed builds silently and then pulls back the edges of your face. It had all of us endangering our licenses."
The magazine's road-test editor Christopher Nelson was equally impressed. "Driving the Model S is decidedly not like piloting a Nissan Leaf or an electric Smart," he said.
One of Automobile's contributors, Ezra Dyer, went so far as to arrange a race with a 560-horsepower, $89,900 BMW M5 sports sedan, seeing which vehicle could first reach 100mph (161kph). The Model S – a $78,750 version with a big ol' 85-kilowatt-hour battery – bested the bimmer.
"It bears repeating: this thing is silly quick," Dyer bore repeating.
As Automobile rightly points out, straight-line acceleration is exhilerating and all, but there's more to driving than on-demand neck-snapping. The handling of the Model S, though, also impressed the magazine's testers, who lauded the "body control and vacuumlike grip" of the 4,643-pound sedan.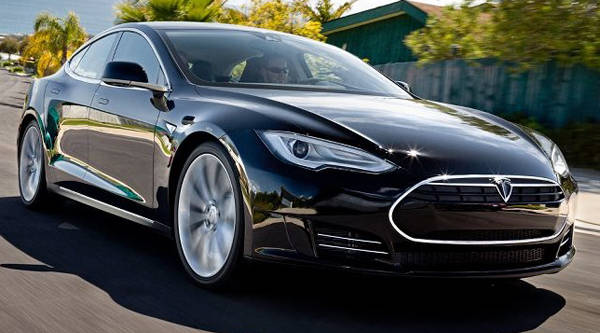 Automobile magazine's 2013 Automobile of the Year – a bit early, it being early November 2012
Also impressive to the Automobile staffers was the Model S interior's "appealing, Bauhaus simplicity" – although The Reg can't imagine Walter Gropius ever installing something as grandiose as a 17-inch touchscreen display in any vehicle he might have designed.
That said, Gropius was famous for his iconic door handle designs, so he may have been duly impressed with the Model S door handles: they sit flush with the car body, then rise with a tap of the fingertip.
Now, lest The Reg sound as if it's presenting an advertisement for Tesla Motors – or, for that matter, for Automobile magazine – let us hasten to point out that the Model S has one glaring drawback: it's from Tesla Motors, a company that has rattled over more than its share of bumps in the road since its inception in 2003.
Let us count the ways: delays of its flagship Roadster, job cuts, lawsuits, an alliance with Arnold Schwarzenegger, management reshuffles, more job cuts, financial troubles, legal setbacks, executive defections, bad reviews, price hikes, recalls, more lawsuits, an expensive and acrimonious divorce of founder Elon Musk, and ... well, we could go on, but you get the idea.
In Automobile magazine's video, above, announcing its 2013 award, tester Nelson says that Musk told the mag that the answer to the question of whether Tesla would remain a viable company would be known "in the next several months."
If the answer is "No," there's a chance that the title of 2013 Automobile of the Year may last longer than the company that produced the winner. ®
Sponsored: Webcast: Why you need managed detection and response