IT does its part for Obama US jobs creation in October
More people found work than expected since August
The economy in the United States added 171,000 net new jobs in October according to the latest report from the Bureau of Labor Statistics, higher than many economists had expected. Even better, more people were added to the payroll in August and September than the BLS had originally expected.
With the economy improving by some measures and companies hiring in various sectors, more long-term unemployed people who had fallen out of the unemployment stats restarted their job searches and therefore the unemployment rate ticked up one-tenth of a point to 7.9 per cent.
Ignoring the ongoing layoffs among local, state, and federal governments, the latest jobs report from the BLS (PDF), which is based on data gathered before Hurricane Sandy hit the Mid-Altantic states and made it impossible for millions of people to get to work even if they wanted to. Ignoring government jobs and jobs on farms, which have their own cycles due to planting and harvest that the BLS has always measured separately, the private sector added 184,000 jobs in October, and thus government has chopped another 13,000 employees.
The good news is that the BLS now believes that non-farm payrolls rose in the United States by 192,000 in August, which is 50,000 jobs more than originally believed, and were up 148,000 in September, a bit higher than the 114,000 projected in the BLS report a month ago. That means job gains the first 10 months of 2012 have averaged 157,000 per month in 2012, which is a tiny bit better than the 153,000 jobs per month that was the average for all of 2011.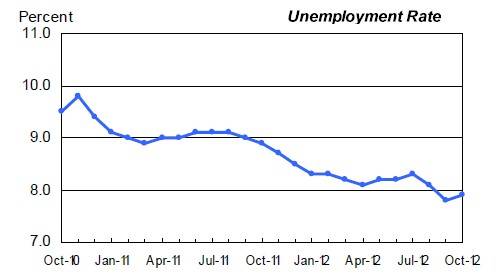 The US unemployment rate ticks up a tenth-point to 7.9 per cent
The issue, of course, is that the number of people who have stopped looking for jobs because they can't find any is still enormous, and once you stop looking, you drop out of the unemployment stats. There are still 12.3 million people who want jobs who cannot find them, and at the current rate of job creation it would take 6.5 years to find everyone jobs.
That never happens, of course, because economies have a certain level of structural unemployment, which in the United States was hovering between 4.5 and 5 per cent ahead of the Great Recession. But you need something on the order of 100,000 to 200,000 net new jobs to be created in the US to keep up with population growth, depending on which economist you ask, and the real fear is that the new level of structural unemployment, given the jitteriness of the global economy and the difficulty that people have in selling their homes (and therefore moving to a new area to get a job if they don't have one) have combined to create a new higher level of structural unemployment that is in the range of 6 to 6.5 per cent – and maybe even higher.
The other issue that is interwoven with unemployment is partial employment, with US employers reluctant to give employees full-time jobs because they don't want to incur healthcare costs for them; so long as they are part-timers, they don't get such benefits. Yes, the lack of true national healthcare insurance is a big part of this equation, and more importantly, it keeps the boot on the necks of full-time workers, which is just where employers like it. You'll put up with a lot more crap from your boss when your children's health insurance – and your own – is dependent on your job status. In a full-employment market with lots of job openings, you can tell your boss to stuff it and get a new job with new insurance. That's a bit more problematic in the United States today for most workers with the jobs not being so plentiful.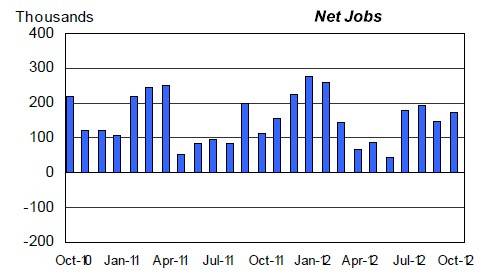 Job creation bumbles along in 2012 as it did in 2011
As has been the case in the past, the professional and business services part of the US economy was the big gainer, adding 51,000 workers in October and has increased by 1.6 million workers since the low point in September 2009. Healthcare companies added 31,000 net new workers last month, retailers added 36,000 workers, and those engaged in the leisure and hospitality added 28,000 people, and construction companies added 17,000 employees. Manufacturers held steady.
The BLS, which is a part of the Department of Labor, does not count jobs based on what you do, but rather by the industry in which you are engaged. So we can't really figure how the IT industry, which is part of every sector, is fairing in terms of wages, unemployment, or jobs creation.
Computer and electronic products makers added a net new 2,200 jobs, for just over 1.1 million workers. Within this, computer and peripheral equipment makers added 200 people, with a pool of 164,400 workers, while communications equipment makers cut 1,100 workers to a pool of 107,000. Semiconductor and electronic component makers added 2,300 workers, to make up a total of 386,800 workers.
In the information sector, which encompasses telecoms, all forms of publishing and broadcasting, and data processing and hosting, jobs were up overall. Telecom companies, which have been slashing workers since the Great Recession began, added 5,000 workers, to 828,500 people, in October. Data processing and hosting companies added 600 workers, to 239,900, across the country.
The number of hired guns in the computer systems design and related services sub-sector was up strongly last month, as it has been for the past several years, with 17,300 net new workers added in October and raising the pool of workers to 1.63 million. Management and technical consulting firms, which often do IT-related work (but certainly a lot of other stuff, too), added 13,500 people, with a total of 1.16 million workers.
No one is quite sure what the effect of Hurricane Sandy will be on the employment situation, and it is likely that it will take months for it to shake out in the BLS data. ®
Sponsored: Detecting cyber attacks as a small to medium business