Apple updates iOS 6, Safari
Dreaming of a fix for the crap Maps app? Dream on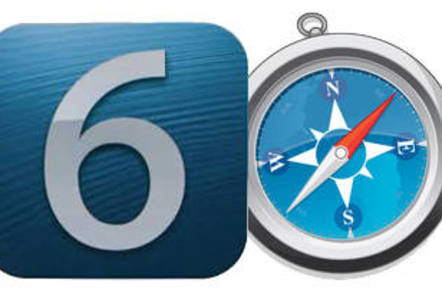 Apple updated its iOS mobile operating system on Thursday – and no, it didn't fix the deservedly maligned Maps app – along with an update for its Safari web browser for OS X 10.7.5 Lion and OS X 10.8.2 Mountain Lion .
The Safari update weighs in at a trim – for Apple, at least – 47MB, but the iOS update, downloading at this very moment onto your Reg reporter's three-plus-year-old iPhone 3GS, is a Brobdingnagian 780.5MB.
The iOS 6.0.1 update is primarily focused on bug-fixing and security updates. For example, the update promises to fix a bug that prevents iPhone 5s from installing software updates wirelessly, and another bug that allows access to Passcode details when the handset is in lock mode. A full listing of upgrade details can be found here, and security-upgrade details can be sussed-out here.
The Safari 6.0.2 update centers around two WebKit-related vulnerabilities that, in Apple's words, created a situation in which "Visiting a maliciously crafted website may lead to an unexpected application termination or arbitrary code execution." Full details on the security upgrade can be found here.
As per usual, the Safari update can be downloaded from Apple's Mac App Store by clicking – what else? – the Updates icon in the App Store app, now at version 1.2.1. The iOS update is accessible through the Summary pane of the iTunes after selecting your target in the Devices list in the left-hand pane.
You may be happy to hear that both updates installed without a hitch on your reporter's iPhone 3GS and Mac Pro running OS X 10.8.2. Your mileage, of course, may vary. ®