Apple enables 'Superstorm Sandy' donations in iTunes Store
No, Cupertino won't take its 30% cut – it all goes to the Red Cross
Apple has added a button to the home page of its iTunes Store that clicks through to a page where you can use your iTunes account to donate money to "Help Superstorm Sandy survivors."
The page lists six different donation amounts ranging from $5 to $200 – all you need to do is click the Donate button under each amount, and "iTunes will transfer 100% of your donation to the American Red Cross."
That's right – 100 per cent. There'll be no 30 per cent cut taken by Apple for its eleemosynary enablement.
There can be no argument, even among the most hardened cynics must agree, that the poor souls most affected by the ravages of that hurricane – or "post–tropical storm", an important distinction if you're an insurance company – need all the help they can get.
In the Long Island town of Breezy Point, for example, 110 homes burnt to the ground and another 20 were damaged by flames in a Sandy-sparked conflagration.
New York governor Mario Cuomo says that the US Army Corps of Engineers is sending its "National Unwatering Team" to New York City, where it will work to drain the estimate 300 to 400 million gallons of water filling that city's subway system.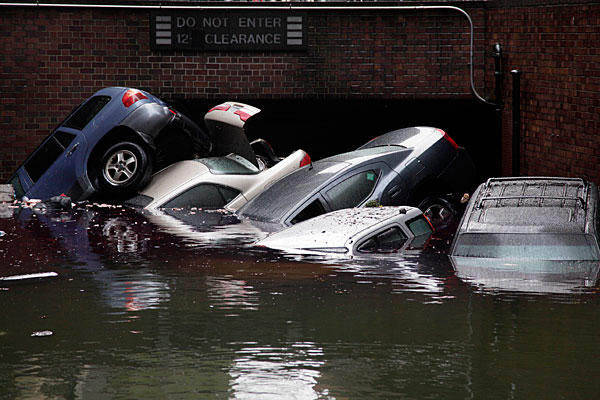 It's a wee bit damp in New York City's financial district (source: The Christian Science Monitor
New Jersey was hit hard. "Nearly all" of the homes on the New Jersey barrier island that's the site of MTV's Jersey Shore, according to one report, "were seriously damaged, and many were destroyed" – a high price to pay for removing that execrable show from the airwaves.
We at The Reg are well aware that the Windows version of iTunes causes more than a few of our readers to grit their teeth in rage, but may we respectfully suggest that you hold your noses, fire up your copy, and click through to donate to those Sandy-suffering folks on the east coast of the US.
Or, if you can't bear to launch iTunes, just point your browser directly at the American Red Cross Disaster Relief page.
Whichever you choose – and whether you think Sandy was infuriated by climate change or you prefer to chant the mantra "weather is not climate" – we at The Reg recommend that you take heed of the ol' Nike slogan, and "Just Do It". ®