EE 4G LTE review
Very high speeds - if you can pick up a signal
High speed, low reach?
So how did it do? Sitting at my desk near, but not next to, the office's windows, I got 4G download speeds - on two signal bars, by the way - of around 11Mb/s and uploads of 17Mb/s. Out in the street, away from Leicester Square and in the Strand, I clocked up download and upload rates of over 20Mb/s and 10Mb/s, respectively.
All good and on a par with EE's claimed 8-12Mb/s average download speed. The company also quotes a peak speed of 40Mb/s, but I never got that. And if I moved away from the office windows, further inside the building though with line of sight and no walls in between, I didn't get a 4G signal at all. The One XL dropped out of 4G and, after a noticeable pause - during which time the test app reported no internet connection - into 3G then quickly to 3G+ and then almost instantly to H+ - HSPA+, in other words.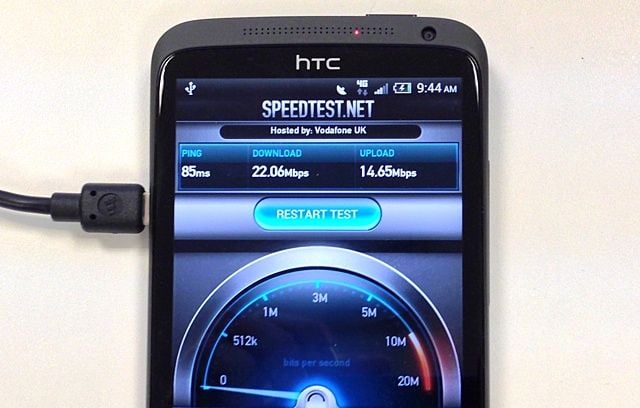 In the right place, the speeds are impressive
This yielded down and up speeds of 1.5Mb/s and 0.5Mb/s, respectively. The iPhone 5 in the same location clocked up 3.5Mb/s and 1.0Mb/s. At my desk, I only got 5.3Mb/s and 0.9Mb/s through O2.
Making or taking a call on the One XL likewise cuts the 4G connection, to run the voice over a 3G link. That limits in-call data connections to the slower speed.
I live in North London a couple of kilometers due north of the centre. Here, I couldn't get a 4G signal in any of the locations I tried, one in my flat, the other outside a pub four or five blocks away. The One XL's HSPA+ performance wasn't at all bad - downloads at 7.7Mb/s, uploads at 2.1Mb/s - but so much for EE's 4G coverage. For comparison, though, O2 could manage only a poor 1.7Mb/s and 2.3Mb/s in the same locations.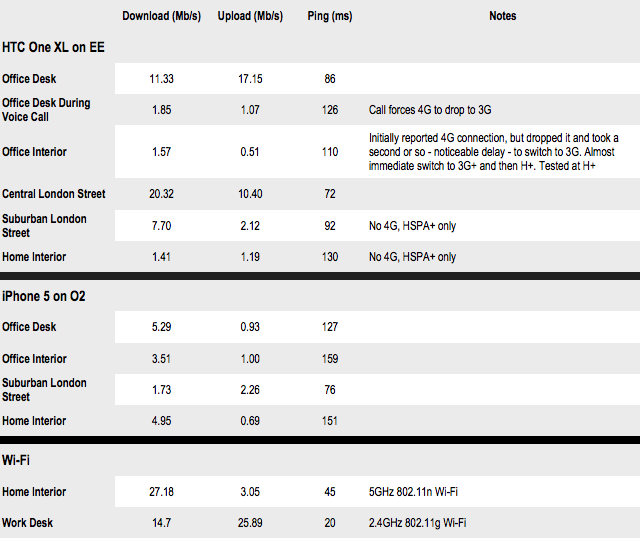 My 5GHz 802.11n Wi-Fi network at home yielded download and upload speeds of 27.2Mb/s and 3.1Mb/s, respectively. At work, I got 14.7Mb/s and 25.9Mb/s on the 2.4GHz band and using 802.11g.
One other point: 4G ought to provide a much lower latency that older cellular technologies. While EE's figures do show an improvement, it's not as great as I would have expected.
There's more to 4G than speed, of course. You have to consider how much extra it will cost you, for starters. EE's two-year contracts run from £36 to £56, all of which include unlimited calls and texts, but offer different monthly data allowances, from 500MB to 8GB. You can add 50MB to 4GB extra for £3 to £20, so for £76 a month you can get 12GB of data transfers. You pay roughly 0.7 pence per megabyte. The fees include a handset, of course.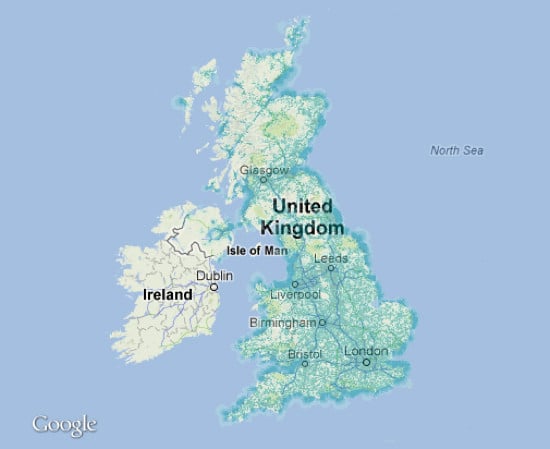 EE's coverage, "based on computer prediction [and] not a guarantee of service availability...
there may be specific areas shown as having coverage where your device will not work". Definitely
The limit is critical: Three, for example, will sell you unlimited HSPA+ data for just £15.90 a month. Your choice then is not merely about speed and how much you're willing to pay to get it, but how much data you expect to transfer.
Incidentally, Three's package doesn't include unlimited calls and texts, but I'd guess that 600 minutes and 5000 texts is effectively more than most folk use and therefore effectively unlimited.
EE will offer 12 month Sim-only phone plans on 9 November, priced at £15 a month less than the two-year deals discussed above. It offers USB and Wi-Fi modems too for laptop usage. EE's roaming rates are par for the course.
Finally, battery life: the One XL died less than 24 hours after it's initial charge. I ran the test app ten times, checked a few websites, set up and checked my email and made a phone call. That's it. Expect to make frequent visits to your charger.