MULTICOLOURED TARANTULAS found UP TREES in Brazil
Fears they may be kept as pets, farmed for DRUGS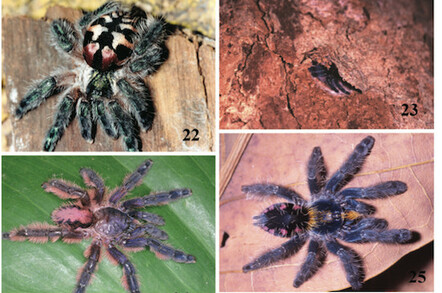 Spider experts working in Brazil have discovered nine new species of pink, purple and orange mini tarantulas after carefully probing into the classification of the hairy horrors.
The haul of new spider species comes from a study in the Amazon rainforest by tarantula specialist Dr Rogerio Bertani of the Instituto Butantan in Sao Paulo. He has described nine new species of tiny tree-tarantulas in South Brazil in a paper published in the latest edition of the journal ZooKeys.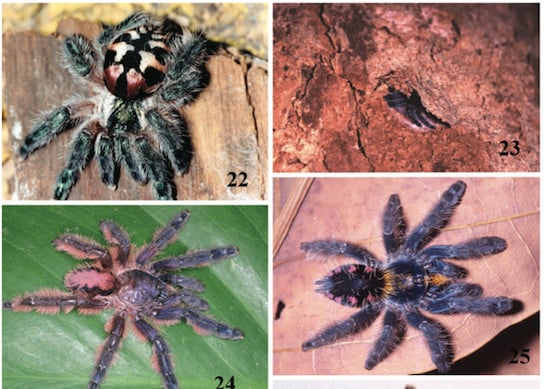 Tree tarantulas. Credit R Bertani
Dr Bertani has painstakingly classified features ranging from abdomen coloration, tibia spurs and eye size to identify the new species.
Tree tarantulas were first recorded and classified in 1841 and it is likely that their tiny ancestors have been scuttling over the earth for a very long time.
Bertani said: "These are the smallest arboreal tarantulas in the world, and their analysis suggests the genus to be very old, so they can be considered relicts of a formerly more widely distributed taxon."
The paper mentions that the unusual colours of the hairy horrors could make them a target for the pet industry, also suggesting that they could be useful for the pharmacological industry.
Tree tarantulas tend to be smaller and lighter than their ground-dwelling cousins, and four of the nine are the smallest known tarantulas ever recorded. Tree spiders also have longer legs with more surface area at the end of them.
Bertani also stressed it was important to preserve the larger environment of the Amazon rainforest because of the great richness of life that it supports.
Revision, cladistic analysis and biogeography of Typhochlaena C.L. Koch, 1850, Pachistopelma Pocock, 1901 and Iridopelma Pocock, 1901 was published in the 23 October, 2012 edition of ZooKeys. ®