Plextor M5 Pro 256GB SSD review
Modern Marvell
Compressible impression
The M5 Pro I'm looking at is the mid-range 256GB (PX-256M5P) model. It has a quoted Sequential Read speed of up to 540MB/s which is the same for the 128GB flagship 512GB capacity drives. The Sequential Write speed for the 128GB drive is up to 340MB/s and up to 450MB/s for both the 256GB and 512GB models.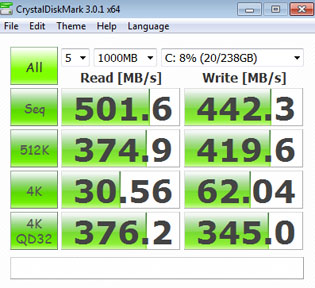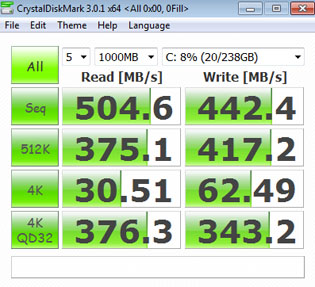 CrystalDiskMark results: Compressible data scores on right
Once inside Plextor's now familiar brushed aluminium finish metal case, the 7mm format M5 Pro is revealed in all its glory. The eight Toshiba NAND (TH58TEG8D2JBA8C) chips
 are on one side of the PCB, along with a pair of 256MB Nanya DDR3-133 chips making up the drive's 512MB of cache. The controller sits all on its lonesome on the other side of the board.
When the drive was tested with the ATTO benchmark, it gave a Read performance of 545MB/s – a tadge over the officially quoted figure of 540MB/s, while the Write performance was a bit shy of the quoted 450MB/s at 418MB/s.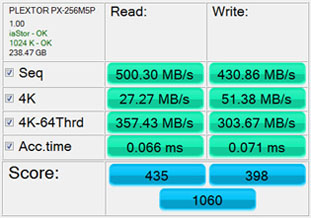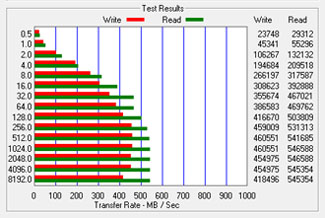 AS SSD and ATTO results
Unlike LSI SandForce controlled drives, the Marvell silicon in the M5 Pro has no problem dealing with compressible data, as can be clearly seen by the two sets of CrystalDiskMark benchmark scores. These show hardly any difference between the Write performances in either of the two modes. It's the same story in the AS SSD benchmark; the default in-compressible test produces Sequential Read/Write scores of 500MB/s and 430MB/s respectively. Switching to AS SSD's compressible data test, the drive doesn't miss a beat producing a Read score of 504MB/s and Writes of 450MB/s.
Verdict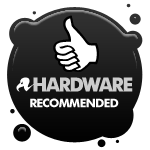 Plextor's M5 Pro is the first of the next generation of SSD's officially using the latest Marvell silicon to break cover. Not only that, but it also uses the latest in NAND technology as well. Under test conditions its headline Write performance was a little lower than the official figures, but no doubt there is a firmware upgrade on the way to improve this. Yet as it stands, it's still a very quick drive out of the box and Plextor has been bold enough to back it with a 5 year warranty. ®
More SSD Reviews

Intel
330
OCZ
Vertex 4
Ten... Sata 3
SSDs
Kingston
HyperX
SanDisk
Extreme

Plextor M5 Pro 256GB SSD review
Two new technologies in one very rapid drive and it still comes in under the £1 per GB barrier.