If you measure IT with PCs, you're doing it wrong
It's time for the channel to buy drinks for vendors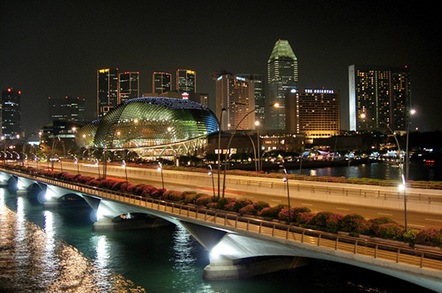 Canalys APAC Assessing the health of the IT industry by taking the temperature of the the PC market is no longer a useful approach, Canalys President and CEO Steve Brazier told the analyst outfit's APAC Channel Forum in Singapore today.
Bounding onto the stage after two of Singapore's signature dancing lions ensured the event got off to an auspicious start, Brazier said that while PC sales and the financial performance of big PC players have been accurate indicators of the industry's overall health for 15 to 20 years, the likes of Microsoft, Intel and PC makers are bellwethers no more.
A better barometer, Brazier said, is infrastructure vendors, who currently outperform the PC crowd financially because building the underpinnings for online services is where the action is.
"Storage and networking vendors are ahead of the market," Brazier said, while those who can help in the data centre are also doing well and are therefore worth tracking. PC-makers, suppliers to PC-makers, printer outfits and application vendors are wallowing and represent the old world. Brazier reserved special scorn for Oracle, which he said is struggling after what he called the "pretty disastrous Sun acquisition."
Another new metric Brazier asked attendees to consider is operating system market share - across all connected devices. When Canalys finished its sums for all PCs, tablets and smartphones, Brazier said the firm found just 32% of devices run Windows. That's another reason to stop looking at tech through PC-coloured glasses, he said, and also a call to action for the channel which must find ways to cash in on apps and supporting infrastructure for Android and iOS – which he labelled "important business operating systems" - rather than traditional desktop-centric work.
When considering the state of tech it's also important to consider the Asia Pacific region, where growth greatly exceeds that available in the troubled European and slightly resurgent North American markets. Brazier stated industry growth in APAC the region is currently 12 per cent a year, compared to five per cent elsewhere on the globe. Even distributors can grow in Asia, he said. Disties elsewhere have moved into a phase where a hunt for high margin gigs and finding ways to explain flat revenue to investors are the order of the day.
That there's money to be made in the region will come as no surprise to anyone with even passing acquaintance with its colossal population and rapid modernisation. But Brazier said vendors don't get it and still send most of their marketing funds to the USA and Europe. That should change, he said, given that Asia is where growth opportunities lie.
To illustrate the gravity of the shift, Brazier said the channel is doing so well in Asia that staff from the partner community should start buying drinks for vendors at the event, an unheard-of and frankly unnatural arrangement that sent a nervous titter around the room.
If nature was in any way offended by that suggestion, there were no immediate repercussions: the lion dance's function of warding off malign spirits seems to have done its job. ®