Fujitsu assigns team of women to design PC for women
'All-out-pursuit of elegance' produces jewelled power supplies and mice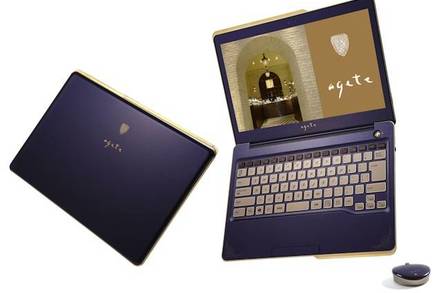 Fujitsu Japan has announced a range of PCs "planned and developed primarily under the direction of female employees" and "aimed at female users".
The 'Floral Kiss' range of computers is an extension of the LifeBook line and will go on sale in Japan next Friday.
Fujitsu says the Floral Kiss was created because women make nearly half of PC purchases, which meant the company felt it was a good idea to design them a product of their own, along the following lines:
"The Floral Kiss project was born from the desire of Fujitsu's female employees to create a PC that women would find appealing. The new series, developed under the concept of bringing elegance to all aspects of PC design—from hardware to applications—was created with this aim in mind."
Fujitsu's statement about the machine does at least immediately mention some technical details, namely that the ultrabooks run Windows 8, various third generation Core™ i5 CPUs and 500GB of hard disk. But those details are dealt with quickly, with the bulk of information on offer covering features like a scrapbook app, diary program that aggregates posts from Facebook and Twitter and a horoscopes service.
Three colours – Elegant White, Feminine Pink and Luxury Brown – are offered, while the machine also features a "top casing … constructed with an elegant and refined gradation with gold trim, and it features a flip latch that can easily open the display—even by users with long fingernails."
A "pearl-like accent" adorns the machines' power button, while "the power status LED and Caps Lock key are decorated with diamond-cut stone for a sophisticated look. "An exquisite gold ring frames each key on the transparent keyboard" and there's a flower on the air vents.
Small and shiny mice and power supplies are another feature Fujitsu expects will do the business with women, with the Floral Kiss product literature proclaiming they are "... compact and fit easily into the hands of all users. At the same time, zirconia adornments and other details that give them a stylish appeal."
One of the venues the machines will go on sale is at high-end jeweller agete, which means a special model bearing that brand's logo and colour scheme, plus a matching handbag.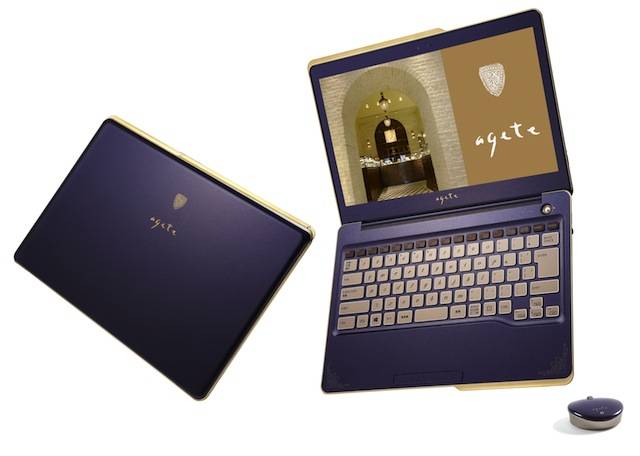 Fujitsu's purple Floral Kiss ultrabook for women sports the livery of jewellery brand agete
An Australian anti-sexism community on Facebook, Destroy the Joint, carries a vigorous debate about the Floral Kiss. The comment we like best says:
"As a female surgeon I'm wondering when someone is finally going to make me a pink scalpel with sparkling zirconias in the lady-sized handle. With a floral motif. Can we get the Lady Engineers working on that please?"
A woman very close to your correspondent declared, with more than a hint of sarcasm, the PC a fine idea as "I only use a computer for shopping, anyway."
There is, of course, precedent for this kind of thing in the form of luxury-car-branded PCs that are almost certainly aimed primarily at men. ASUS has also offered leather-trimmed PCs aimed at those more concerned with looks than performance.
The Floral Kiss range sells for 103,320 yen, about US$1295.00, at Fujitsu's Webmart. We're yet to hear from Fujitsu on whether the Floral Kiss will make it out of Japan. ®
Sponsored: Detecting cyber attacks as a small to medium business