James Bond doesn't do CGI: Inside 007's amazing real-world action
Invisible Aston? We don't like to talk about it
Real life Bond thrills and spills
Many other things you'll have seen in the big, set-piece Bond scenes have been actually done, or have been made to work in real life by those doing them.
The roots of Fornof's Bravo Jet sequence are his own experiences. Buzzing through the hangar came from a sequence he shot for a Toshiba commercial while the idea of landing on a public road originated from an experience Fornof had flying the Bravo Delta when he was forced into an emergency landing in their skies above North Carolina when the small plane suddenly lost oil pressure.
Descending through the cloudbase at 800 feet above hundreds of miles of dense forest, the only thing resembling a landing strip coming into view was a long grey streak of Carolina freeway cutting through the dark green with traffic beetling along in both directions.
"My heart was in my throat – there's no two ways about it," Fornof tells us. "I was going to land someplace and the highway was my runway. Was I scared? Yes, but as a test pilot you lean to stay with it until the situation is over.
"I got in the flow of traffic and almost landed on a moving van. I had enough speed to get in front of the van. So got in front of him and hoped he would slow the traffic down [behind him]. As I came to an offramp, I went down that, to an access road, and rolled into a gas station."
Fornof says the petrol attendant who'd been standing in a doorway walked up to him and asked if it was Candid Camera. Shortly after, the local news showed up.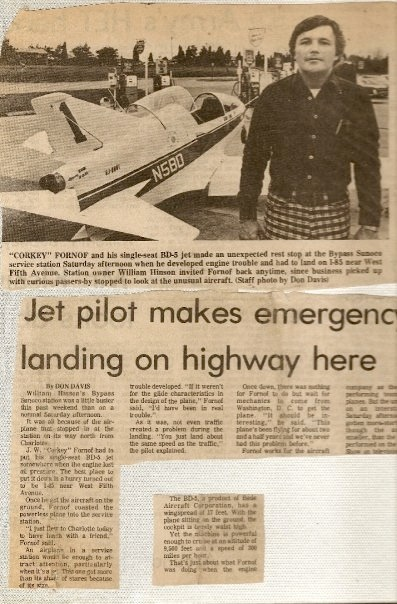 Fornof's forced landing made the news and inspired the opening of Octopussy
On The Living Daylights, Cubby asked Fornof if it was possible to snatch an airplane out of the air. After three weeks' practice in Miami, Fornof had developed the routine. He worked out how to drop a person by wire from helicopter, a US Coast Guard H-65 Dolphin, onto a Cessna aeroplane, and for that person to loop a cable lasso around the Cessna's tail, so that the chopper could fly off carrying the plane with nose pointing down.
You can - and probably have - debated the strengths and weaknesses of The Living Daylights and Timothy Dalton, but this scene was seminal and showed its influence in the opening of Christopher Nolan's The Dark Knight Rises as Batman's nemesis Bane is rescued mid-air and mid-rendition by his henchmen.
Thunderball set the trend for such jaw-droppers. FX man John Stears landed the Oscar but Browning choreographed and directed the sub-aquatic action. The inspiration for this work? Browning was a competitive swimmer with the US air force, who became a scuba diver and who also devised a unique way of breathing underwater – breathing oxygen by drinking what you want from a hose.
This fed into the films: he was cast as The Creature in B-movie classic The Creature from the Black Lagoon. Originally a location scout, he was cast for this style of swimming, considered natural for the beast. Browning then wrote Flipper - the story of a boy who befriends a Dolphin - before landing the job on Thunderball. Browning was spotted by Kevin McClory, who adapted Thunderball and got the diver in front of Broccoli and Salzman for that Cousteau-stopping meeting.
Keeping one foot planted in reality is an important part of Bond as it would be easy nowadays to surrender shooting such scenes to the green screen and CGI. Such digital re-touching technology didn't exist in 1965, though; if it did, Broccoli could have padded the underwater fight scene with hundreds of digitally reproduced frogmen instead of the 60 divers Browning choreographed and staged under the waves.
Mercifully, Bond has remained free of this kind of digital screen-washing, which - done badly - shows the cracks or which can be all-encompassing, as in James Cameron's Avatar. In 1965, the underwater set for Thunderball was built and lowered into position under the Caribbean, including a full-size replica of a Vulcan bomber, the plane carrying the nuclear bomb Emilio Largo steals. The plane was lowered into position 50 feet beneath the waves using a $5,000-a-day crane and fastened to the seabed using weights to prevent powerful currents tearing it away.
Nearly 50 years later on Skyfall, the techies are still keeping it real. The London Underground train was realized in full scale on the Bond Pinewood 007 set in Shepperton using a full-size train consisting of two carriages that were built from scratch and controlled electronically, and sunk into an underground that consisted of the same tanks that had formed the submarine bays for villain Karl Stromberg's submarine-eating supertanker in The Spy Who Loved Me in 1977.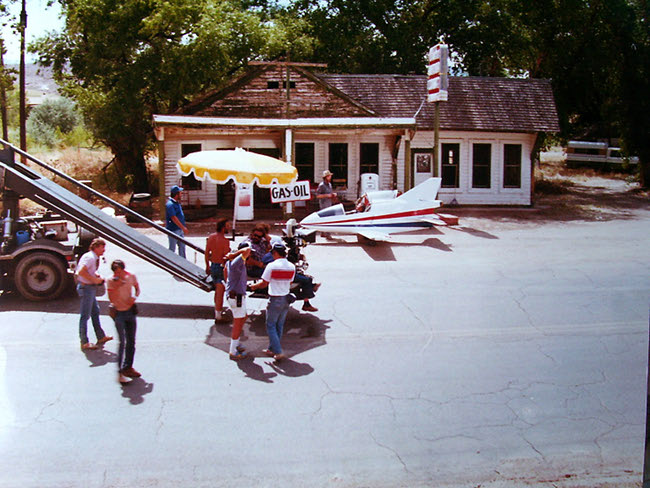 Fornof's petrol-station landing was lined up for shooting
Fornof gives his theory on why Bond's producers pick people over pixels:
"Reading the trade papers I've seen a lot of surveys where people want to see live stuff because they think: 'I can do that on my computer.' I think they want to see things done real."
Skyfall's Bond veteran Corbould, who's seen the rise of CGI, reckons Bond's predilection for big, set pieces done with real people has actually been helped by the rise of digital.
Sponsored: Detecting cyber attacks as a small to medium business