James Bond doesn't do CGI: Inside 007's amazing real-world action
Invisible Aston? We don't like to talk about it
Fights, chase scenes and disappearing cars
Browning spent "months editing and polishing the Thunderball script. "I created most of the fights," Browning tells us on the phone from his home in Florida. "We just tried to make it look real and for the most part we did. Some of the scenes were a little corny and were edited out. We just did our film."
Broccoli's spirit is alive today, with ideas on bubbling up from all quarters including producer Barbara Broccoli, says Skyfall's Corbould - who has worked on 13 Bond movies.
"The ideas come from any direction - Sam [Mendes, Skyfall director], me the stunt director, the producers ... sometimes it can come from most outlandish areas. Everybody pitches in, the lighting cameraman will come in with a great effect - it's an open forum."
Corbould worked with Mendes to develop the crashing London Underground train scene in the Skyfall trailer, which you'll have seen by now.
"It was an idea I had come up with, with Sam, to have a climatic piece in that part to be dramatic," Corbould tells us. "The scene required a dramatic moment in the chase sequence, when Bond feels he has his villain, and we wanted something that suddenly changes the tables and comes out of the blue."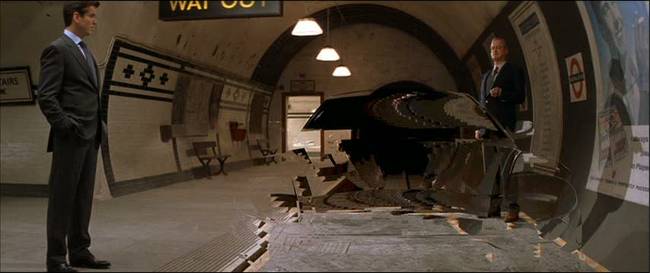 Die Another Day's invisible Aston: the CGI went too far
Remarkably, Corbould continues, "everything is based in reality".
Never heard of a London Underground train running out of control? It has happened: at Moorgate in 1972, a disaster the left 30 dead and 70 injured.
Corbould makes a valuable point: all the ideas are based on the crew's experience or technical expertise, which is vital because keeping Bond reasonably close to reality helps make 007 feel familiar. Bond doesn't kick film-goers out of their viewing experience; they don't wake up suddenly and say: "Hang on, that's silly and this is just a film."
Not convinced? Corbould has a confession: the Bond crew know when things have gone too far. For example:
"Where we stretched it was on Die Another Day and the invisible car. I wasn't keen on that from day one. We went too far.
"Since then, we have kept things in the realm of reality - but only just," Corbould continues. "The other day I was on a plane and opened a magazine with a pen camera in it and I thought in a Bond film 30 years ago that was in there. This is amazing, because that's where we want to be."
Invisible car technology does exist, it's just too "out there" for audiences to really know much about or to appreciate. Putting it in a Bond film takes Bond a little too close to kicking you out of film-watching mode and into "wait a minute" mode. Mercedes cashed in on the glow of Die Another Day by publicising an invisible B-Class that it had smothered in $263,000-worth of LED mats that made the car "disappear" at a distance by copying the scene around them to fool a watching digital camera.
The catch, apart from the price of the LEDs outstripping the price of the car itself? The fact the power sources, computers and other kit used to power the system added an extra 1,100lb (499kg) to the car's weight, and the result was more semi-visibility than invisibility. The Swedish military has turned to pixels with their local BAE Systems subsidiary to turn a tank invisible, but they're the military. And it's a tank. And it only works in the infrared spectrum.
On the other end of the scale are scenes that are just too lifelike for audiences to handle.
It was Fornof, stunt pilot and consultant on three Bonds, who conceived and executed the flight of the little Bravo Delta jet used in the opening scenes to Roger Moore's Octopussy. The sequence climaxed with the jet flying through an aircraft hangar, barely evading the closing hangar doors. The hangar is then blown apart by a pursuing surface-to-air missile (SAM) before the jet is landed peacefully on a quiet road. With the fuel arrow on empty, Moore taxis up to a petrol station and instructs the startled attendant in this militarised Banana Republic to "fill her up" (evidently this station has jet fuel as well as more normal motor juice).
"If you have a good director he will keep rolling if something is happening," Fornof says. "Some of the things I loved about the Bond movies is they relied on me. As Cubby said: 'These are the shots we need, now you put the magic in them' - that's where the roll in the canyon scene [Octopussy] comes up."
In that opening sequence of Octopussy with the Bravo Delta jet, Fornof is dodging the SAMs through and around the gorges and mesas of Utah. However, some shots were just too realistic for the Bond audience to handle.
"[We were] shooting over Hurricane Mesa with a 1,500 foot drop - there's a forest on top of it. Where the forest ends I pushed negative 2Gs going down. From the camera it was a beautiful shot but we ran it for a test audience during one night, and more than half got sick or were nauseous. People felt like they were being sucked into the scene, which I felt was fantastic but didn't play too well with the audience."
Sponsored: Detecting cyber attacks as a small to medium business