Apple's 13-inch Retina MacBook torn asunder for your pleasure
Bonus! Adorable kitten photos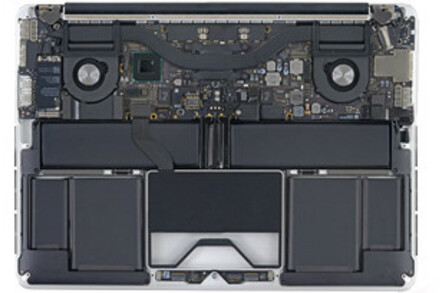 Mere days after Apple announced the new 13-inch MacBook Pro with Retina Display, the good folks at the parts, tools, and repair-guide website iFixit have torn one apart – carefully, carefully – and found some interesting innards.
Not only that, but they also ratcheted up the teardown's cuteness level by including the globally recognized embodiment of adorableness: a 21-day-old kitten.
Unfortunately, their inclusion of an endearing li'l kitty is not intended as a comment on the delight you might experience when atempting to repair or upgrade the new 13-incher – it received an iFixit Repairability rating of a mere two out of 10.
As dismal as that judgment might be, it's still better than the rating that iFixit assigned to the new notebook's big brother, the 15-inch MacBook Pro with Retina Display, which they tore apart shortly after its June release. That fiendishly unrepairable bit of kit received a rating of one out of 10.
Inside the new 13-incher, the cuteness-loving iFixit techs found a six-cell lithium-ion polymer battery rated at 11.21 volts, 74 watt hours, and 6600 milliamp hours, manufactured – where else? – in China, and connected to the notebook's circuitry through a new, non-standard connector board.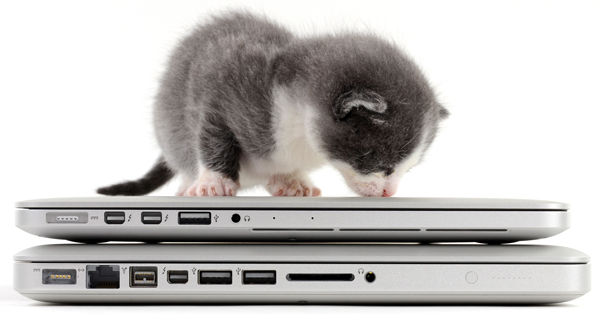 The 13-inch MacBook Pro with Retina Display on top of the earlier 13-incher, smooched by iFixit's 'Affectionate Kitteh'
The iFixiteers were able to remove the battery without puncturing it, but doing so was no simple feat. "The task took us roughly 15 minutes to complete," they note, "without the use of a heat gun. All we needed was a Torx screwdriver and three spudgers."
While this may sound like a rather difficult process for something as simple as removing a battery for replacement, it was far easier than accomplishing the same task on the 15-inch MacBook Pro with Retina Display without puncturing the battery. That ordeal took three tries, with the final success requiring over half an hour of nail-biting exactitude.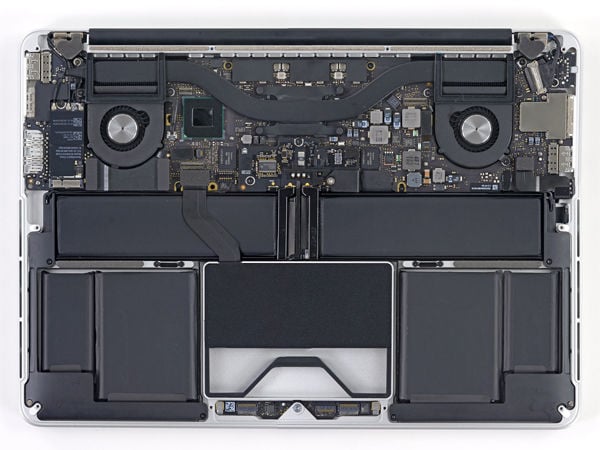 As is usually the case with an Apple notebook, the parts layout is dense – except for an oddly capacious SSD bay
Also inside was a logic board with a 2.5GHz Intel Core i5-3210M, 8GB of Hynix H5TC4G83MFR DDR3L SDRAM, Intel BD82QS77 Express Chipset, and a whole lot more.
The notebook's SSD is a 256GB Samsung MZ-DPC2560/0A2, there are two cooling fans with noise-reducing asymmetrical blade spacing, and maybe – just maybe – there's enough room in the SSD bay into which a slim 7mm or 9mm 2.5-inch hard drive might fit.
iFixit attemped to install a 9.5mm Crucial SSD in the bay, but it was too thick – "but just by a smidge." As they note, however, if you could fit a super-slim drive into that bay, you'd be on your own in terms of cabling.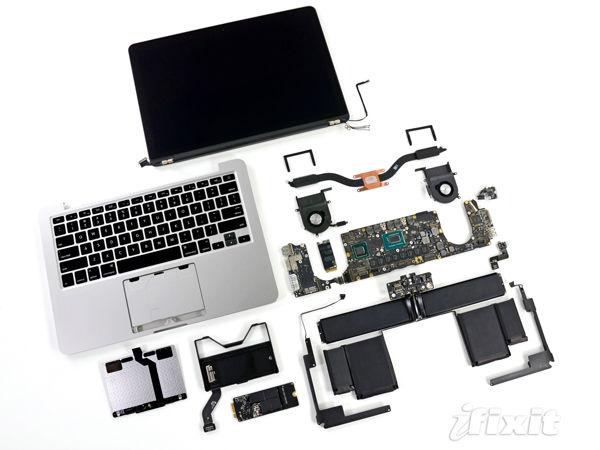 $1,699 worth of parts, from the Retina Display (top) to the six-cell battery (lower right)
There's far, far more information to be found in iFixit's teardown, including 47 photos, each of which can be expanded into 1600-by-1200 "View huge" images, as they're tagged by iFixit – highly recommended for any Reg reader with a love of hardware.
There are also a half-dozen photos of the aforementioned kitten – highly recommended for anyone in need of their daily "Awwwwww..."
Sponsored: Detecting cyber attacks as a small to medium business