'Petrified' insurers slam wallets shut as more resellers go titsup
Channel insolvencies edge up in Q3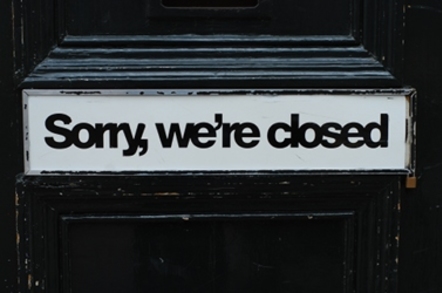 The small sequential rise in reseller insolvencies in Q3 - in line with seasonality - will do nothing to calm credit insurers' general uneasiness about the IT sector.
Data from credit reference agency Graydon UK, shows 75 channel firms bit the dust during the summer quarter, up from 64 in Q2 but dramatically lower than the 93 of a year ago.
This represents the fourth highest rate of collapses in the last 10 years, but is still way off the high recorded in Q2 2011.
Alan Norton, head of intelligence at Graydon UK said the stats showed "times are still quite tough in the IT market, the good news is that there were no major insolvencies".
All of the 75 firms that hit the wall were SMEs including 43 voluntary liquidations, eight that were compulsory liquidations and 24 that called in the receivers.
Seasonally, Q1 and Q3 are the most challenging quarters for resellers when rent and VAT fall due and when demand in the IT industry is at its weakest.
So there is no cause for concern - among distributors at least – but trade credit insurers clearly continue to view the channel with some caution.
A source at one distributor that spoke on the condition of anonymity told The Channel that the insurers have never re-instated lines they cut in the aftermath of the credit crunch.
"Credit insurers are petrified given the way they are behaving," the distie said. "They are not cutting lines but they are not extending them either. So far they haven't gone back to 2008 [levels]."
The distributor said insurers must be kept to up-to-date with the latest management accounts and relevant information, advice that resellers are known to frequently ignore, the distie added. ®
Sponsored: Webcast: Why you need managed detection and response