SanDisk jolted out of flatline after Q3 flash storage shock
Put the paddles away ... it's ALIVE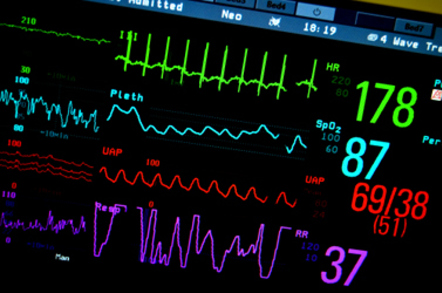 SanDisk is putting its poor first and second quarter results behind it, as the flash storage supplier returns to selling stuff customers want and starts growing revenues and profits again.
A total of $1.27bn in revenue came in in SanDisk's third calendar 2012 quarter, with net income of $77m. Comparing it with the year-ago quarter the numbers look bad: in 2011, revenues were $1.42bn, meaning a 10 per cent decline, and profits $233m, meaning a 67 per cent fall. The chart below shows the trends and on a sequential basis SanDisk did very well indeed. The third quarter saw 23 per cent revenue growth, as second quarter revenues were $1.03bn, $41m less, and profits of $13m were well down as well.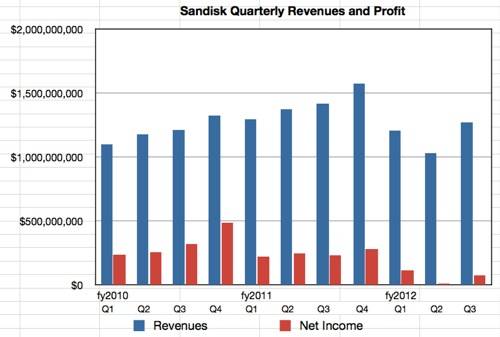 A decline that started after the final 2011 quarter looks to have been reversed. What does the company have to say about this? CEO Sanjay Mehrotra talked about strong retail sales, revenue rises in all geographies, and a recovery in the mobile embedded flash business. This product area had under-performed and accounted for a second quarter revenue shortfall; details here. Mehrotra is expecting "strong sequential growth in the fourth quarter," with SanDisk CFO Judy Bruner forecasting fourth quarter revenue of $1.45bn to $1.55bn.
In the earnings call Mehrotra's prepared remarks included this statement: "Our enterprise SSD revenue declined sequentially, impacted by delays experienced in qualification of certain new models of our enterprise SSDs which utilise captive flash memory."
The enterprise flash market is an important growth area for SanDisk and this is disappointing. It compares poorly with the client OEM product segment where, for example, Lenovo is using SanDisk's X100 SSD in its ThinkPad X1 ultrabook. But Mehrotra expects "strong sequential growth in our enterprise SSD sales including with usage of our captive flash memory," serving notice that SanDisk's engineers had better deliver the goods.
The enterprise market includes PCIe flash cards. Mehrotra said: "We expect the overall PCIe market to become a key growth driver for our enterprise grade SSDs in 2013 and beyond." He was bullish about the enterprise business prospects, summarising it thus: "We expect strong revenue growth in the fourth quarter in both client and enterprise SSDs, with full year combined SSD sales expected to be more than 10 per cent of our 2012 revenue."
SanDisk is ramping up its 19nm flash technology and expects to begin 1Ynm NAND production in mid-2013, 1Y NAND being in the 18nm-15nm area roughly, with work to scale it down to 1Znm (the generation after 1Ynm) levels, 14nm to 10nm as we understand it. The future is partner Toshiba's NAND and post-NAND kit, meaning BiCS NAND and ReRAM (background here.)
About this Mehrotra said:
We continue to believe that BiCS NAND or any other 3D NAND is two to three years away from the start of any meaningful production ramp in the industry. We also believe that 3D ReRAM will not start production until sometime beyond 2015 given its need for EUV lithography, which is still in development phase. We believe NAND will continue to be the dominant non-volatile memory technology in production through this decade, given its large installed base of production capacity and growing applicability.
NAND industry supply bit growth is expected to be in the 30-40 per cent range in 2013, lower than the previously forecast 40-50 per cent in July. But it is enough for Mehrotra to say SanDisk expects to complete expansion of its Fab 5 facility in 2013 and production from it may ramp up in the second half of that year, depending upon demand. Nobody in the industry wants a NAND supply glut which would destroy profitability.
SanDisk has bought its way into the flash software market but revenues from that won't be immediate – far from it. Mehrotra said: "Software in 2013 will continue to remain a very small part, really too small to call out. This is an area that will take us a while to develop in terms of revenue opportunity for the company. We are very excited about our FlashSoft and Schooner acquisitions. We believe we have really acquired leading edge competencies to address the caching solutions."
SanDisk software is a product differentiator right now but will hopefully become a revenue generator from 2014 onwards.
Summing up the product growth drivers for 2013, Mehrotra said: "SSD, will be, in terms of the growth rate ... the highest growth rate for SanDisk in 2013. Mobile and embedded will also continue to grow very nicely for us."
There we are: confidence shining through that the revenue drop trough is over and SanDisk is going to resume growing revenues and, hopefully, profits too. ®