Australian boffins have a ball with lightning maths
St Elmo will spin in his grave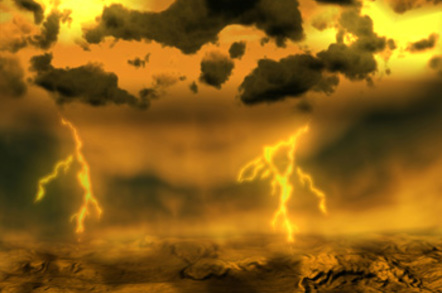 Scientists at Australia's CSIRO have put forward a mathematical model which they believe could help explain the origin of ball lightning.
While people have observed ball lightning for centuries – at least – explaining it has been so troublesome that it's attracted a variety of strange hypotheses – all the way to microwave radiation, dark matter, antimatter or mini-black holes.
It's even been dismissed as a trick played on the brain.
One common suggestion is that something – such as silicon particles – is burning, but as CSIRO scientist and lead author of the paper John Lowke explains, it's an idea that has problems.
"If something is burning, the gas is heating." Since a hot gas rises, the ball lightning should rise, he says – but in general, that doesn't fit what people who have seen the phenomenon report.
In a paper published in the Journal of Geophysical Research Atmospheres (abstract), Lowke and his team of scientists from CSIRO and the ANU offer a simpler idea: ball lightning ions formed in a thunderstorm, but baulked by an insulator like glass.
This would also help explain reports that ball lightning can "travel through glass", as Lowke explains in an audio snippet at the CSIRO Website.
"Our explanation in the paper is that [ball lightning] is due to ions piling up on the outside of the window," he says. Since windows are generally insulators, "the ions pile up to such an extent that they cause an electric field inside the window, which in exceptional circumstances can be sufficient to start a discharge."
Lowke hopes that the model CSIRO offers in the paper will provide the basis of an experimental test. "A crucial proof of any theory of ball lightning would be if the theory could be used to make ball lightning," he says.
That would be good news for anyone who thinks they've seen ball lightning but hasn't reported it because, Lowke says, "they are afraid that they will be regarded as being nuts." ®