Curiosity finds . . . wait for it . . . a ROCK on MARS!
Tales of an Earth-like igneous rock named Jake
NASA reports that the first Martian rock it has examined with the Curiosity's arm-mounted Alpha Particle X-Ray Spectrometer (APXS) shows curious similarities to a rare form of mineral found on Earth.
The rock, named "Jake Matijevic" after a JPL engineer who died just after Curiosity landed on Mars, was lasered 30 times on 14 analysis points by the rover in an attempt to discover the process that formed it. The APXS results show that it closely resembles rocks found on the volcanic islands of Hawaii and St. Helena that are formed when relatively water-rich magma is pressurized in an unusual way.
"When you make magma of this type on Earth it takes particular conditions of crystallization," said Edward Stolper of the California Institute of Technology in Pasadena during a press conference on Thursday. "Typically it takes place at relatively high pressure, at least several thousands of bars, and also takes place in conditions with relatively elevated amounts of water that is dissolved in the magma."
The process is similar to how the American settlers used to make apple liquor, or applejack, back in the day, he explained: by placing barrels of apple cider in snow drifts and skimming off water as it crystalized, leaving hard liquor behind.
In this case, the magma goes through cooling, which eliminates feldspar and other minerals from the rock before it hardens. On Earth, such minerals are then typically scattered by volcanic eruptions, but Stolper warned that it was too early to say if this was the reason for the formation of Jake.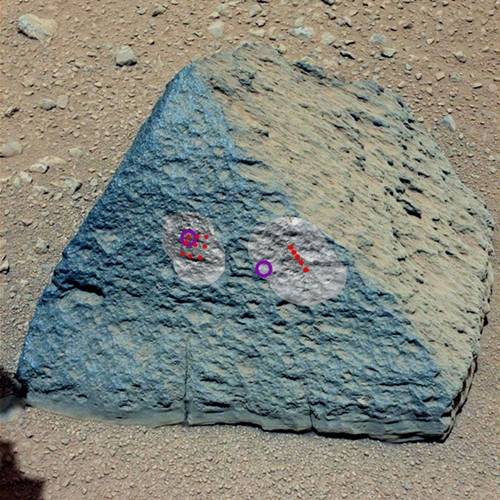 No, that's not graffiti on Jake – those are NASA's aiming points highlighted
The rock is a pyramid-shaped lump of minerals, probably similar to basalt. Curiosity will now rumble forward another 100 yards to the east of its current position and begin drilling into the Martian crust for more samples. ®