Amazon UK leaks Windows 8 retail box, TV ads
Here's what we're in for as October 26 approaches
Windows 8 isn't due to launch until October 26, but some over-zealous retailers are starting to give us a feel for the marketing onslaught we can expect once Microsoft's new OS hits retail shelves.
Officially, most retailers are still being coy about anything related to Windows 8. For example, searches on Amazon's US site reveal only a teaser saying, "Looking for Windows 8? Learn more about some of the new Windows 8 features and sign up to be notified when its [sic] released here." *
But things aren't so tight-lipped over at Amazon UK. The online retailer's Blighty division has launched a full product page for Windows 8 Pro, Upgrade Edition, complete with what appear to be computer renderings of the operating system's retail packaging.
From what we can see, the Windows 8 box is a bit of a departure from the packaging of previous versions of Windows. In keeping with Microsoft's new "Modern" look and feel, the main part of the box is a flat grey color with minimal text in the Segoe font. Just "Windows 8 Pro" and "Microsoft" -- that's it.
Front of the Windows 8 Pro retail box (click to enlarge)
In the center of the box is the new Windows logo, presented as a literal, die-cut window in the cardboard. Behind the window is a swirl design featuring many of the colors from Windows 8's Live Tiles.
Another image shows a rendering of the back of the box, which describes the new OS as "Windows reimagined." Surprisingly, the text here doesn't do much to tout the new features of Windows 8, giving equal space to such well-established features as Internet Explorer, Windows Defender, BitLocker, and Remote Desktop.
As this is an Upgrade Edition, the back of the box also features some notes about upgrading from Windows 7, Vista, and XP. Microsoft has said it expects most Windows 8 customers to already be running one of these versions of Windows, and rumor has it Redmond doesn't plan to offer a non-upgrade version of the new OS to retail stores.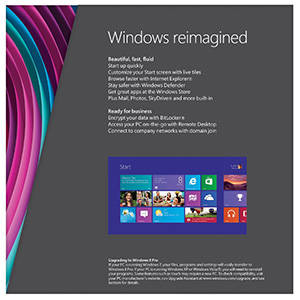 Back of the Windows 8 Pro retail box (click to enlarge)
Buying the boxed version of Windows 8 isn't the only way to upgrade, however. Microsoft is also offering a direct-download upgrade option for $40 through January 13, 2013.
Amazon UK's Windows 8 product page also offers an assortment of videos (see example, below). Some of them are tutorials for various new features, while other seem destined to become TV ads, with titles like "Meet Windows 8," "Make It Yours," "Work Hard, Play Hard," and "It's All About Apps." A few of these have since leaked to other websites.
As expected, the ads heavily emphasize the touch-centric nature of Windows 8, with disembodied hands poking and swiping at various samples screens, in particular the new Start Screen.
Like its US counterpart, Amazon UK doesn't give any shipping date for Windows 8, saying only that we can sign up to be notified when it's available. But by now we all know that it will be available at Microsoft's pop-up stores and other vendors beginning on October 26 (at midnight, in some locations).
There's no word on when Microsoft's marketing blitz will begin in earnest, however. But once it does, your Reg correspondent wonders how long it will take us all to get tired of that Windows 8 theme music from the ads. Should we plan to count in days? Hours? ®
Bootnote
* Amazon's temporary US product page for Windows 8 also carries this perplexing caution: "WARNING: CHOKING HAZARD -- Small parts. Not for children under 3 yrs." October 26 can't come soon enough.
How many times do you think you can watch one of these?