SpaceX Falcon 9 flameout leaves commercial satellite in wrong orbit
ISS cargo on track, private sector customer looking blue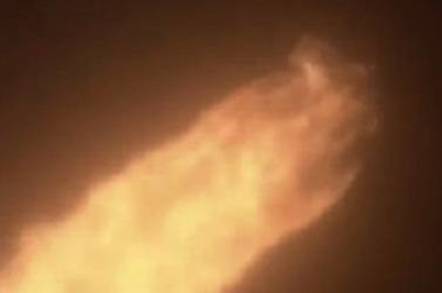 The Falcon 9 rocket from upstart rocket firm SpaceX, which lifted off yesterday with supplies for the International Space Station, will deliver those supplies successfully following loss of an engine during launch. However a commercial satellite which was also aboard the rocket has been placed into a lower orbit than planned as a result of the mishap.
As we previously reported, the nine-engined Falcon first stage suffered an engine failure as it climbed towards space, with launch video giving the impression that one of the Merlin rockets had lost its nozzle. The Falcon is designed to carry out its mission even having lost an engine, and the flight path was duly adjusted. The Dragon capsule with supplies for the International Space Station was successfully sent on its way and is expected to reach the ISS without trouble.
However the rocket also carried a satellite belonging to sat-tracking firm Orbcomm. The plan was that after the Dragon had departed from the Falcon second stage, the second stage would fire again and place the Orbcomm bird into its intended orbit.
Unfortunately it appears that the engine loss earlier in the flight meant that by the time the Dragon was released the Falcon could no longer conduct the necessary second burn due to flight-safety constraints intended to protect the ISS. Orbcomm said in a statement issued last night:
Due to an anomaly on one of the Falcon 9's first stage engines, the rocket did not comply with a pre-planned International Space Station (ISS) safety gate to allow it to execute the second burn. For this reason, the OG2 prototype satellite was deployed into an orbit that was lower than intended.
It would appear that had the planned burn taken place, the Falcon second stage, the satellite, or other parts of the launch stack might have wound up on a flight path which would have potentially endangered the ISS and the 'nauts living aboard it.
Orbcomm says it is investigating the possibility of getting its satellite into the right place using its own onboard propulsion. Even if this can be achieved, however, it will be unsatisfactory as a satellite's own fuel must be sparingly eked out over its operational lifespan to maintain it in orbit. Using up a lot of it before even beginning operations is liable to mean a short working life for the Orbcomm bird.
While SpaceX can justly plume itself on the resilience of the Falcon 9 - which is the only rocket now flying able to carry on with a mission after suffering a first-stage engine failure during launch - the rocket firm can't claim that the launch was fully successful. ®
Sponsored: Becoming a Pragmatic Security Leader