It's the brains, stupid
So. Zorin's plan to control chip giants has merit but it's the wrong attack vector. However, this is the world of Bond: suppose Zorin emerged from the chilly waters of San Francisco Bay where Bond hurled him at the climax of A View to a Kill and - Blofeld-like - re-established himself. Would Silicon Valley still prove a tempting target for a hyper-intelligent megalomaniac wishing to dominate the world's tech economy?
Well, it's become home to personalities such as Mark Zuckerberg, Larry Ellison and a positive swarm of venture capitalists. But whether the semiconductor industry would still be the target is open to question. The evacuation of semiconductor manufacturing from the Valley that Zorin failed to completely grasp in the 1980s is more or less complete. Today there is just one 300mm fab still operating in Silicon Valley, according to fab kit trade group Semi.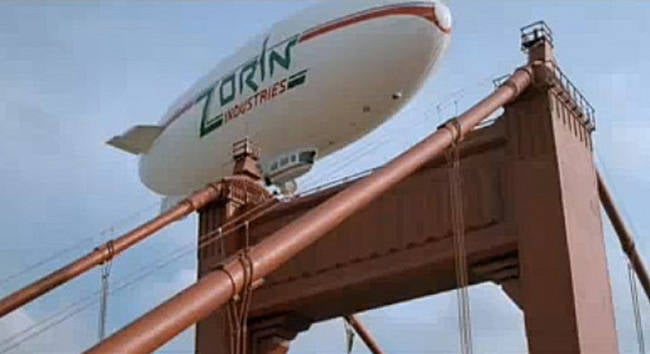 Back from the dead: would death-cheating Zorin today hit Facebook, Zynga or the Valley's VCs?
To take the most obvious example, Intel's 300mm wafer fabs are now spread across Oregon, Colorado, New Mexico, Ireland, Israel and China. Other functions such as testing and packaging take place around the world. That human-triggered earthquake would not necessarily disrupt Chipzilla's R&D either. Intel found as it set up facilities around the world that local talent could be groomed to do more than just keep an eye on the machines.
Other Silicon Valley stalwarts, such as AMD, have moved out of the Valley altogether, while it's a safe bet that today's up-and-coming chip firms would simply go the fabless route.
But let's assume that Zorin is still a single-minded psychotic, turned vengeful by Bond's thwarting of his plans. What if he decided to take out Silicon Valley anyway? What would he achieve?
He'd probably cause some disruption to the HQ functions of a lot of tech companies. A lot of iPhone prototypes might be lost, but as long as Jonathan Ive and Tim Cook were travelling, Apple would arguably be OK. The tech world might arguably not shed a tear over the loss of Hewlett-Packard; and Oracle presumably has backups of its binaries somewhere safe as it's a software company.
Which leaves what? Facebook, Zynga and an awful lot of venture capitalists is the flip answer. Hell, we might even find ourselves cheering Zorin on.
But, argues Laws, in some ways the dislocation caused by a modern day Zorin would be more far reaching, precisely because the Valley and the tech industry are nowadays about more than the chip. It's home to the whole infrastructure and knowledge that's at the heart of the modern tech industry.
"If the Valley disappeared there would be massive dislocation. These days it's not just chips, it's now software and systems. The dislocation would be more devastating," Laws argues.
But the essential elegance of the original View to a Kill plot is missing here. Hitting Silicon Valley today might indeed cause massive upset to whole sectors of the tech industry, but the thing that made Zorin's plan almost logical - domination of what was becoming a strategic industry - is missing.
What are the alternatives for today's Zorins to try and dominate? As with the chip industry, so goes high-tech hardware as whole. Thanks to the globalisation that occurred after the collapse of the Iron Curtain, manufacturing has become spread throughout the world, offering at least a degree of supply chain resilience. Our modern day Zorin might take out Foxconn's iPhone plant, but he'd need his own equally desirable product ready to go - and he'd need to have Samsung or somebody else in on the act.
So let's leave manufacturing. Perhaps the older, wiser but still vengeful Zorin would target the world's information infrastructure. Data centres might be seen as the nodes of the modern tech industry, but they too are widely diffused.
An electromagnetic pulse (EMP) wave such as that generated by a nuclear blast might knock them out over a given area. But this would also take out an awful lot of other things.
And this is IP infrastructure we're talking. Redundancy is part of the point. The most you'd achieve is a monopoly on an electronic wasteland - unless you'd been able to construct an entire globe-spanning comms network unnoticed. That's before the difficulties of securing a nuclear bomb and hiking it into space undetected are taken into account.
Other scenarios might sketched out: a Stuxnet-like virus attack or some other digital assault on critical infrastructure? Possibly, but where's the payback? If it's blackmail that could leave some sort of paper trail. And, let's be honest, without the possibility of millions dying, where's the fun?
The problem is all the obvious scenarios lack the elegance and logic of Zorin's original plan: a staged, but otherwise completely expected, natural disaster taking out the crucible of a growing industry, giving the plotter-in-chief an invisible monopoly and ensuring he gets a share of every transaction going forward.
So Zorin today might be expected to launch a much more insidious, invisible method of dominating tech and making sure he gets his take on every transaction. A Bond movie about patent trolls or venture capitalists would be rather short on action, though. ®
Sponsored: Practical tips for Office 365 tenant-to-tenant migration