Target Silicon Valley: Why A View to a Kill actually made sense
Bond villain Zorin's plan wouldn't work today, though
Valley guys and earthquakes
If anything, prospective partners might have thought Zorin's proposition was based on a ludicrously low entry fee, with too much of his share being backend loaded. But they'd have kept this view to themselves - either to maximise their own profit, or to avoid being asked to "step outside" the airship where the meeting was held.
But the industry - less than two decades old depending how you date it - was changing, in ways that could undermine the whole logic of the plot even before filming began.
For a start, Zorin's figures are a little out – he tells his conspirators the Valley is home to "250 plants" and 80 per cent of world microchip manufacturing. These figures put him at odds with the SIA.
A drift of chip manufacturing was already underway out of the Santa Clara Valley by the end of the 1970s. The innovators in computing were also innovators in rationalising production and exploiting near-shore and off-shore production, according to David Laws, a curator with the Semiconductor Special Interest Group at the Computer History Museum in Silicon Valley. Laws is a 40-year veteran of the Valley, having worked at firms from Fairchild to AMD.
This wasn't just theory; land was already expensive there, while the populace along Route 101 was already acutely aware of the potential environmental impact of the esoteric chemicals being used in chip production, says Laws.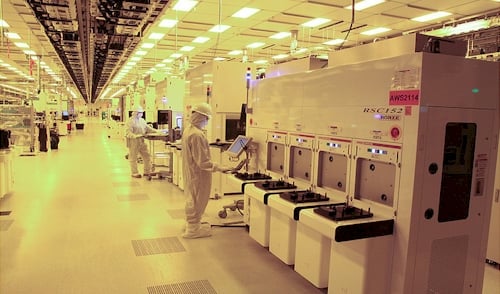 A Zorin plan would miss chip plants like GlobalFoundries' Fab 8, outside Silicon Valley
So by the time Zorin was fleshing out his plan, large-scale fabrication had already moved out of the Valley - AT&T and IBM had always had their own plants elsewhere. Meanwhile, says Laws, packaging and testing had already moved overseas, to the Philippines, Malaysia and Korea. The fabs still in the Valley were focused on prototyping and initial manufacturing.
Nonetheless, Laws says that taking out the Valley "would have been pretty devastating" - but Zorin would have been obliterating brain power, not manufacturing muscle.
"In Silicon Valley you had such breadth of experience, in so many specialisms," says Laws, whether microprocessors, analogue or mixed signal.
Even with the manufacturing elsewhere, there was enough of a critical mass of brains in the Valley that it would have been hard for the rest of the industry to pick up the slack, at least in terms of future development.
So Zorin probably got it right with his target, although not quite for the reasons he expected, and for a limited time only.
As for his methodology, disguising one's assault as a natural disaster is a great way of covering your tracks. But just how easy is to stage a major earthquake?
The understated response from Roger Musson of The British Geological Survey, Fortean Times contributor and author of the forthcoming book The million death earthquake, is: "It's not very plausible."
The concept of a geological lock is standard seismological theory, Musson explains. But Zorin's method of unpicking it is fanciful.
The San Andreas Fault lies between 5km and 15km below the Valley's surface, he explains, meaning the explosion in the mine Zorin set off to cause the quake catastrophe would have had little practical effect, not least because the energy from explosions tends to be directed upwards.
Likewise, the explosions on the lakes would have resulted in "some spectacular fountains, but not much else."
However, the producers did not completely ignore earthquake science. Indeed they consulted the BGS on what a seismological monitoring lab should look like. This at least they got right for the few seconds it appears on screen.
"It looks like ours," observes Musson.
And if the word of scientists is not good enough for you, bear in mind that A View to a Kill is one of the few Bond plots which has been tested in real life. Just over four years after A View to a Kill premiered in San Francisco, the Bay Area was hit with a major Earthquake - the 6.9 point Loma Prietta. While this was enough to collapse freeways and close off whole neighbourhoods of San Francisco, the effect on the semiconductor infrastructure was negligible.
"I don't think it was a major hiccup," says Laws. More of a problem was the US's appetite for orchids and other Asian perishables, which often bumped silicon components off trans-Pacific flights.
"An airplane coming in late was more of a problem [than earthquakes]," he says, reflecting the industry's increasing reliance on air freight to move parts from fab to testing and assembly plant and back again.
In fact, one plane did go down in the Bay in the '70s, he says, and while all hands survived, a whole over-stretched industry suddenly discovered they might have had parts on it:
"Everyone blamed that disaster for delays to customers."
Sponsored: Detecting cyber attacks as a small to medium business