Turnbull upends bucket on data retention proposal
Escaping the 'digital dungeon'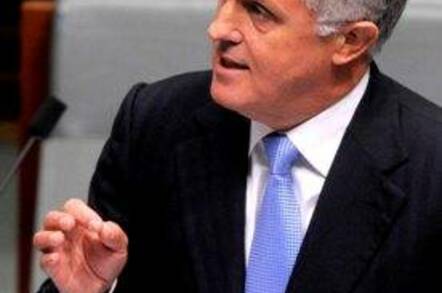 Australia's opposition communications spokesman Malcolm Turnbull has made his strongest statement yet against the proposed data retention regime, asking an audience in Melbourne whether people are casting themselves into a "digital dungeon".
Delivering the Alfred Deakin lecture, Turnbull has created a poser for Australia's tech community: do they favour a government that's building a National Broadband Network but supporting data retention, or an opposition that opposes both the NBN and data retention?
In the wide-ranging speech, Turnbull echoed complaints from the parliamentary committee investigating the data retention proposals, that too little is known about what ASIO and the police want retained: "the most striking proposed expansion of government power over private data is the least clearly explained", Turnbull said.
"Nor has there been an explanation of what costs and benefits have been estimated for this sweeping and intrusive new power, how these were arrived at, what (if any) cost was ascribed to its chilling effect on free speech, and whether any gains in national security or law enforcement asserted as justification for the changes will be monitored and verified should they be enacted," he continued.
"I must record my very grave misgivings about the proposal. It seems to be heading in precisely the wrong direction."
Turnbull was also critical of the wide powers that Internet companies have to gather and retain data, apparently forever: "most of the personal information we have committed to the digital world we have chosen to put in the hands of private companies," he said, citing firms like Google, Amazon and Facebook.
"Privacy is central to any discussion of liberty," Turnbull told his audience. "If [individuals] have the right to record something, and it is of a private quality unlike company or financial records which must be retained, should we not have the right to delete it?" ®
Sponsored: Detecting cyber attacks as a small to medium business