Home-grown drone finds 'missing' hiker
Search and rescue award goes to amateurs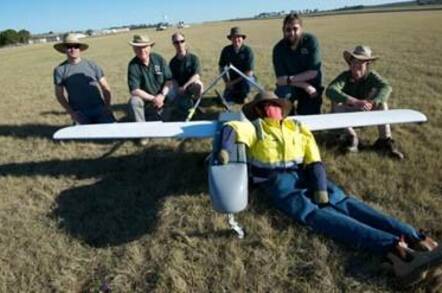 The CSIRO's long-standing UAV Challenge has borne fruit, with a hobbyist-built drone successfully searching for a dummy – representing a missing bushwalker – with no human intervention.
The Canberra-built drone flew over the search area – 1.5 x 3 km – and successfully located the "Outback Joe" dummy. As the UAV Challenge notes, the Canberra drone's three reports of the dummy's location were correct within 6.56, 4.40 and 3.16 meters – well within the error bounds of the GPS system the drone used.
The Canberra team would have scored a $50,000 prize if their drone had also dropped a bottle of water to the right place, but regrettably, the water bottle landed more than 1,000 meters away from Outback Joe – so the team has had to settle for a $10,000 encouragement award.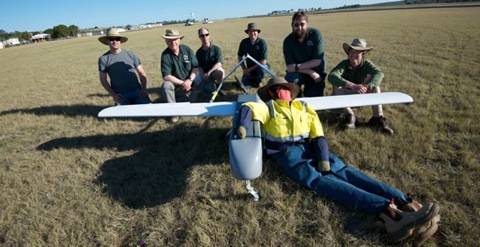 Outback Joe rests with the winning team. Image: Stefan Hrabar
The UAV Challenge was set up after a 2005 workshop. This is the first time a drone has located the dummy without help: last year's winning team combed through a collection of pictures sent back from their drone to locate the dummy.
While expensive military drones could probably replicate the feat, complete with putting an end to Outback Joe's worries by bombing him, UAV Challenge teams live under greater constraints: a fixed wing search craft has to weigh less than 150 kg, it has to travel 5km from its start point to begin its search, it has to complete the search within an hour – and, of course, it has to be built without the kind of budgets available to the military-industrial complex.
As noted by the Sydney Morning Herald, other competitors suffered badly on the day: one was intentionally crashed when it exited the designated "safe area" of the challenge; two crashed while flying to the search area; and a Canadian team suffered a camera malfunction during its search. ®
Bootnote: El Reg thanks the commenter that directed us to this YouTube presentation about the Canberra team, given to Linuxconfau 2012 by none other than Andrew Tridgell, of Samba fame. ®
Sponsored: Practical tips for Office 365 tenant-to-tenant migration