US unemployment dips below 8 per cent, but IT sector takes a hit
Some risk of being forced to take a job as a teacher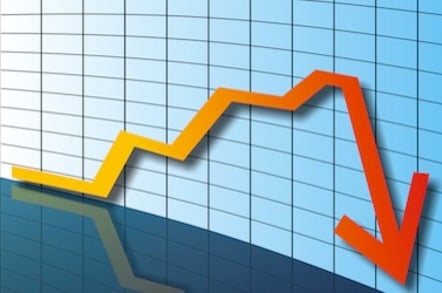 The economy in the United States added as many jobs as economists had been expecting and President Obama had been no doubt praying for, and the unemployment rate dropped to 7.8 per cent, the first time it has been below 8 per cent since the current Great Recession began in December 2007.
The Bureau of Labor Statistics not only put out numbers for September this morning in its monthly jobs report but also revised upwards its figures for July and August, showing that job creation was a bit stronger in the heat of the summer than was originally expected.
Taking out workers on farms, the US economy added 114,000 workers in September, according to the BLS, and interestingly, 104,000 of those jobs came from the private sector and 10,000 of them came from state, local, and federal governments - which had been slashing workers for years and years. Uncle Sam added 4,000 workers to the payrolls, and with teachers coming back to school, another 16,100 extra people were added at educational institutions, boosting the work rolls at both state and local governments and more than compensating for cuts made by governments elsewhere.
The Department of Labor's job counters went back over their numbers for the two previous months and now think the economy created 181,000 net new non-farm jobs in July, up from 141,000, and added 142,000 in August, up from the 96,000, that were originally reported for those two months.
If you average out the first nine months of 2012, the US economy has added 146,000 jobs per month, while in 2011 the economy averaged 156,000 net new jobs per month.
After getting his butt kicked by candidate Mitt Romney in the first presidential debate early this week, President Obama has something positive he can point to and - as presidents always do - take credit for when it can be reasonably argued that companies create and preserve jobs despite governments and bad economies, not because of them.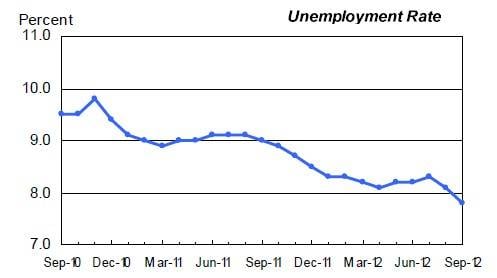 The US unemployment rate drops below 8 per cent
The other good news, bolstered by increased teacher and construction worker employment, is that the unemployment rate - which had been hovering between 8.1 and 8.3 per cent in the past year - dropped to 7.8 per cent in the month of September. The number of officially unemployed people – meaning they are looking for work and have not found it – dropped by 456,000 to 12.1 million.
Last month, healthcare companies added 44,000 workers, transportation and warehousing companies added 17,000 people, and financial services companies boosted the payrolls by 13,000. Manufacturers slashed 16,000 workers, however.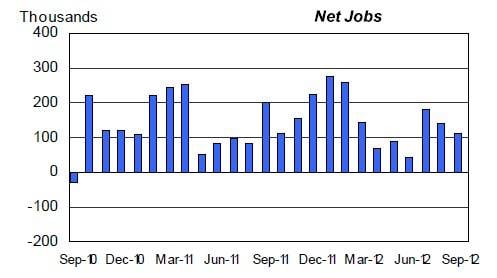 2012 is a slightly shrunken carbon copy of 2011 in terms of job creation
Within manufacturers, and using the raw data instead of the seasonally adjusted data from the BLS surveys of businesses, computer and peripheral equipment makers slashed 3,800 workers in September: leaving 164,000 people still getting paychecks. Communication equipment makers cut 200 people, to 108,100, and semiconductor and electronic component makers chopped 2,000 people, to 386,200. Telecom companies cut 1,200 workers and have a labor pool of 826,200, and data processing and hosting companies also trimmed 1,000 people to a workforce of 239,300. Even computer system design and related services, which had been helping boost the economy in recent years, cut 6,300 workers in September to 1.61 million people. And management and technical consulting services employment fell by 5,300 people, to 1.15 million workers.
September was not a good month for the IT sector, at least judged by this proxy. ®