Harvester garners iFans with first UK Passbook e-voucher
Money off your meal, but only if you're an iOS 6 user
Harvester, the Mitchells & Butlers-owned Berni Inn de nos jours, is offering iPhone fans a fiver off a £30 bill if they turn up at one of the branded restaurants with a handset running iOS 6 and at least one other person, and do so before 20 October.
Just don't use iOS 6's Maps app to find your nearest hostelry...
The offer taps into the new iDevice operating system's Passbook feature. Pop over to the Harvester iOS 6 site and you'll receive your voucher, which should automatically transfer to the Passbook on your device.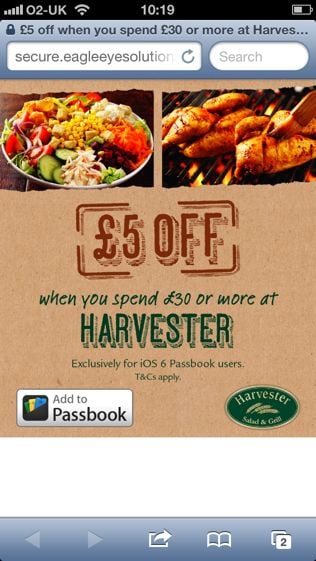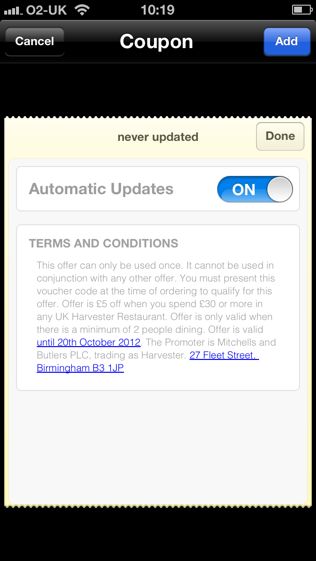 Tap to add (left) but check the details on the voucher's back (right)
But don't hit the Cancel button, as I did, or you'll lose it, and only one voucher is delivered per device. Tap the 'i' button to flip the e-voucher to turn off automatic updates, though it remains to be seen what allowing updates will do: extend the life of your voucher, open you to Mitchells & Butlers spam, or both.
Still, it's interesting to see a UK application for Passbook, which thus far seems limited over here to apps from airlines United, American and Lufthansa, though there is slightly broader support in the States, with pharmacy Walgreens and beverage merchant Starbucks making use of the technology as an alternative to loyalty cards. ®