Watch out, Martians! Curiosity to scoop its first soil sample
But first Mars rover will rinse, spit 'n' repeat
Mars rover Curiosity has rolled up to Rocknest and is getting ready to scoop its first soil sample, which is key to figuring out if microbial life ever existed on the Red Planet.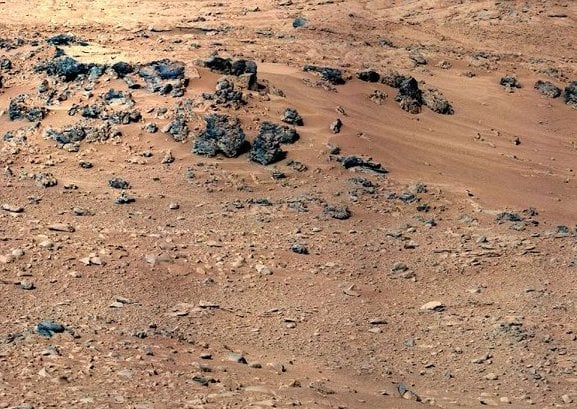 Rocknest, site of Curiosity's first soil sample. Credit: NASA/JPL-Caltech/MSSS
The rover is going to do some limbering up exercises with its robotic arm to make sure its scoop and sample action will work effectively and give clean results to NASA boffins.
Curiosity has already used one of its wheels to scuff the Martian surface so it can get fresh soil for analysis. Next the rover will grab some of the soil, shake it all about inside its sample-processing chambers, then dump it and repeat.
"It is standard to run a split of your sample through first and dump it out, to clean out any residue from a previous sample," said Joel Hurowitz, a sampling system scientist on the Curiosity team. "We want to be sure the first sample we analyse is unambiguously Martian, so we take these steps to remove any residual material from Earth that might be on the walls of our sample handling system."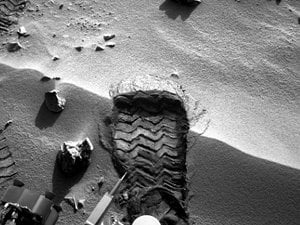 Curiosity's wheel scuff for soil sample at Rocknest. Credit: NASA/JPL-Caltech
Curiosity will then scoop two lots of soil to inspect. Tiny samples from both lots will be delivered to the chemistry and mineralogy instrument CheMin and undergo sample analysis at the Mars instrument, SAM, which identifies chemical ingredients.
"We're going to take a close look at the particle size distribution in the soil here to be sure it's what we want," said Daniel Limonadi, lead systems engineer for Curiosity's surface sampling and science system. "We are being very careful with this first time using the scoop on Mars."
The rover pulled up to Rocknest, the NASA name for the 2.5m-by-5m area of soil Curiosity wants to sample, on Tuesday.
Curiosity's clamshell scoop is 4.5cm wide, 7cm long and can sample to a depth of around 3.5cm. To get deeper into the Martian surface, the rover will use its drill on rocks, the first of which will be picked out when it gets to Glenelg, 100m away. ®