IBM rolls up SAP HANA appliance on SUSE Linux, x iron
Wiener schnitzel not included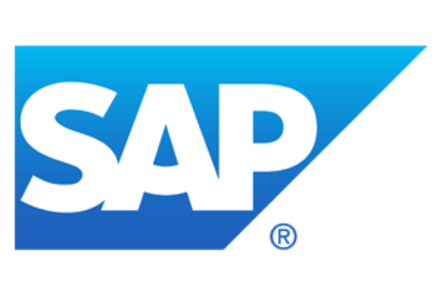 With the HANA in-memory database selling like hotcakes among SAP customers and the German software giant offloading the job of configuring and selling the hardware, IBM wants to get a piece of the action, and do so before HP, Dell, and others (excepting Oracle, which has its own appliances) snap up the business.
To that end, IBM has announced two HANA appliances based on its System x series of rack-mounted x86 servers, which are tooled up with a special version of SUSE Linux as well as a single-node implementation of IBM's own General Parallel File System (GPFS), originally created for parallel supercomputers.
HANA is short for High-Performance Analytic Appliance (yeah, I know, that's actually HPAA, but you know marketing departments), and this is an in-memory data mart created by SAP before it bought Sybase to accelerate queries that would otherwise pester production ERP, SCM, and CRM systems and slow them down.
The first HANA appliance is based on the System x3690 X5 configured with two Intel Xeon E7-2870 processors running at 2.4GHz. The x3690 X5 is a 2U rack server and was announced in August 2010 with the eight-core "Nehalem-EX" Xeon 7500 processors and then updated a year later with the ten-core "Westmere-EX" Xeon E7 processors.
The EX line of Xeon chips are aimed at big, fat memory x86 machines, and in this case the E7-2800 models are designed to scale up to two sockets and 1TB of main memory across 32 memory slots in a 2U box. The Max5 memory expansion card, which has 32 memory slots and which allows you to push up to 2TB using regular 32GB memory sticks, is not certified to run HANA at the moment.
Despite the fact that HANA eats memory for breakfast (and wiener schnitzel for dinner), IBM is offering the HANA appliance based on the System x3960 X5 with either 128GB or 256GB in the base configurations. It seems likely that customers will be encouraged to add memory as they try to cram more data into memory to do analytics on it.
IBM seems content to tell customers to cluster HANA appliances together to scale them up, and has put ten of its eXFlash 1.8-inch solid state drives, which weigh in at 200GB, into the machine to boost the I/O performance of data moving into the main memory. The machine can support up to 24 eXFlash SSD bays if you want to stay all flash, and can handle up to 16 2.5-inch disks normally, but a bunch of those slots are used up for the ten flash drives.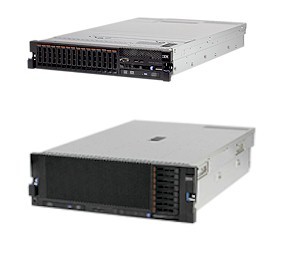 IBM's HANA appliances: System x3690 X5 on top,
System x3950 X5 on bottom
IBM is adding four 10 Gigabit Ethernet ports and six Gigabit Ethernet ports to the box for connectivity to the outside world, and loading it up with SLES 11 for SAP Applications, a special version of SUSE Linux tuned for SAP workloads, as well as a single-node license to GPFS.
Both SLES and GPFS come with a three-year license and support contract on the box, which also has a three-year warranty. By the way, the box is rated at a total of 1,400 processor value units (PVUs) using IBM's performance-based software pricing scheme and the GPFS license that is sold on the HANA appliance is not portable or available on other machines.
The second HANA appliance that IBM has crafted is based on the fatter System x3950 X5 server, also based on the Westmere-EX processors from Intel. But in this case, the x3950 X5 is a 4U racker that can span up to eight sockets using the Xeon E7-8800 series of processors.
IBM is offering this HANA box with a base of two Xeon E7-8870 processors and 256GB of memory, and you can scale processors up in twosies with 256GB allocated to them until you reach an eight-socketeer with 1TB of memory. That E7-8870 runs at 2.4GHz and has 30MB of L3 cache, just like the E7-2870 above. The difference is that it can scale across sockets and costs a lot more.
The x3950 X5 HANA appliance gets loaded up with the same SLES, GPFS, and SAP software and has three-year licenses and warranties, too. And if customers want more memory, the box scales up to 2TB, and in this case, IBM is putting eight 900GB SAS drives in the machine and is not bringing up the eXFlash option.
You might want to see when SSDs are going to be available, because the one thing you don't want from an in-memory appliance is to have to restore the data if it hiccups from disk drives. You really need flash because of the high I/O rates it offers.
The two IBM HANA appliances ship on October 24. Pricing information was not available, but these being hefty boxes, expect proportional pricing. ®
Sponsored: Beyond the Data Frontier