Boffins prescribe SNAKE VENOM as future pain killer
Take two Black Mamba bites, see your doctor if pain persists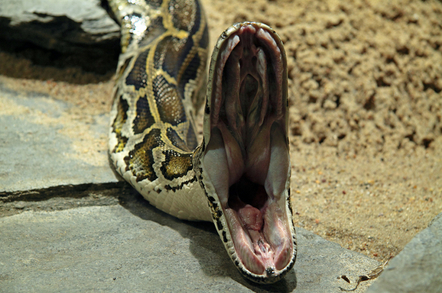 The venom of the Black Mamba, rated the world's seventh most potent snake poison, has been suggested as a future painkiller for humans.
A letter in Nature suggests the application is viable as the venom contains "a new class of three-finger peptides … able to abolish pain through inhibition of Acid-sensing ion channels (ASICs) in central or peripheral neurons." ASICs, the letter explains, "are generally considered principal players in the pain pathway." If the peptides in Black Mamba venom shut them down, that's good news.
The researchers also say that mice, a creature among the Black Mamba's favorite prey, are immune to its venom and experience an analgesic effect when bitten.
The peptides in question work their magic without bothering the bits of the brain targeted by opiates, removing the side effects created by that class of drugs.
One of the research's authors,  Anne Baron of France's Centre national de la recherche scientifique, told Agence France Press "(It) is surprising that mambalgins, which represent less than 0.5 percent of the total venom protein content, has analgesic (pain-relief) properties without neurotoxicity in mice, whereas the total venom of black mamba is lethal and among the most neurotoxic ones."
The AFP report adds that "A patent has been issued and a pharmaceutical company is examining the possibilities." A patent troll versus Black Mamba battle may therefore be in prospect. ®