WD hopes biz barons will grab its new 4TB data tubs
Drives are Western Digital's 'largest'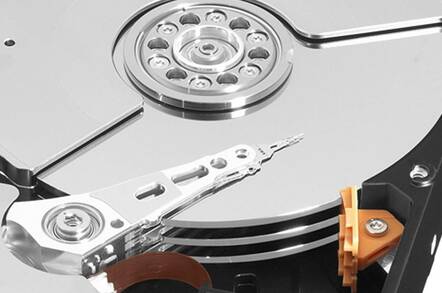 WD has added two mainstream 4TB enterprise disk drives to its range, with Xyratex and Dell using them straight away.
Basically it looks like the same 3.5-inch format drive mechanics with either a 6Gbit/s SAS or SATA interface. The RE SAS is available in 1TB, 4TB, 3TB and 4TB capacity points, with the RE SAS coming in 2GB, 3TB and 4TB versions. They use five 800GB platters and the spin speed is 7,200rpm.
The heads use dual-stage actuators to follow the tiny tracks better. The RE SAS has a 1.4 million hours mean time before failure (MTBF) rating with the SATA version having 1.2 million hours.
Dell's Brett Roscoe, general manager and exec director for PowerVault and other stuff at Dell, said that the PowerVault MD3 array will use the drives "with up to 240 TB of data storage in a single dense array and up to a maximum of 720 TB utilising a single MD3 Dense array and two 60 disk MD3 expansion enclosures."
WD says an array with ten 4U 60-bay enclosures would have a 2.4PB capacity with the new drives. It's impressive but it won't be enough as we all know.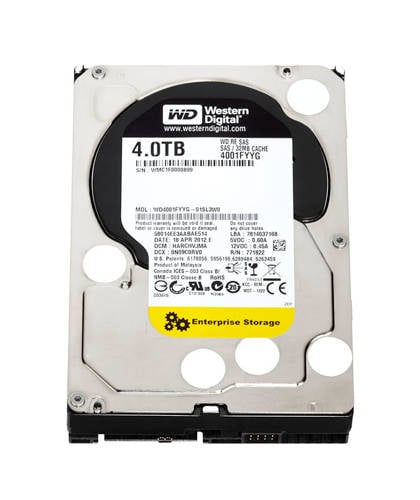 Toshiba doesn't have a 4TB drive, yet. Seagate has a 4TB GoFlex external drive but no 4TB internal fit drive, the Barracuda XT and Constellation ES both topping out at 3TB. Higher capacity models are probably just around the corner. WD subsidiary Hitachi GST introduced its 4TB drive in April.
The 4TB RE SAS has a suggested retail price of $479.00 with the SATA model going for $459.00. A 1TB RE SAS is $139.00 and a 2TB RE SATA is $229.00. ®
Sponsored: From CDO to CEO