Nook pulls on backpack, heads for Europe and flings with foreigners
Barnes & Noble deals with Dixons, Sainsburys and even Waitrose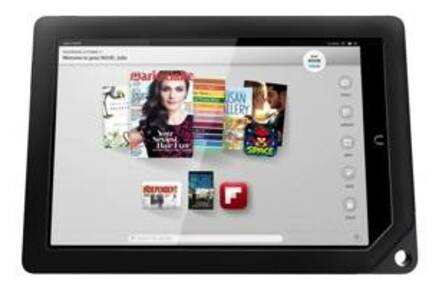 There are a lot of Nooks in the US, maybe 10 million, maybe more, no one is quite certain as the company only releases revenues, which are up at around $192m a quarter for the Nook, not unit numbers. But at an average purchase price of $200 including media, that's about 4 million devices a year, since in first launched. But all of them are sold in the US, although not for much longer.
Of course this is not purely for its tablet. This is when you add up all the separate Barnes & Noble sales for the original ereader 1st Edition; the first Wi-Fi version; the first colour device, its Simple Touch version; the Tablet; and now the Nook Simple Touch with GlowLight. It had sold 1 million tablets as of the end of 2011, and must be way past its second million by now, while Apple is shifting 17 million a quarter – not comparable.
But this is perhaps because there are some things missing from the Barnes & Noble strategy that are about to be put right – first it has an international strategy starting with the UK, and secondly it is about to get a video store. It does sell a lot of content for each device it shifts, but so far that's mostly books and newspapers. Soon it will be video.
Roughly $13bn of Apple's sales are in the Americas, out of a total of around $35bn, so a little over a third. If an internationalisation strategy has the same result for Barnes & Noble, then it will slowly increase Nook sales to the level where it is at least three times the size it is today – more like a $3.5bn business. It might take it 24 months to get there, but all it has to do is continue to refresh its Nook at appropriate times and keep the prices down. The device design itself is a hit.
And remember it is in the process of separating the Nook from the Book store operations, and it is doing that with partners that include Microsoft and Liberty Media, and investors. That envisages taking Barnes & Noble College with it, which will make that operation a $1.6bn business virtually overnight, with only half of that built around the Nook. By including that we can see ahead in the internationalisation route for Barnes & Noble, we can see how it might become a $4.3bn business in a couple of years (the College part adding an extra $800m to the growing Nook business).
In May this year Microsoft pushed $300m into what will become the new Nook business, after Liberty had bought 204,000 new preferred shares for $204m, in a private placement. In part it looked like the Android nature of the Nook was getting Barnes & Noble into trouble with Microsoft, and it has perhaps taken its cash with an understanding that some (or all) of future Nooks will owe some-thing to the Microsoft tablet architecture, even if it's just a Nook app on the devices. Perhaps Nokia will take a license, and then the share price of B&N will show some movement.
The company also has common investors with McGraw Hill and were its text books (heading for B&N College) to become Nook ebooks in the process, then it could develop a genuine content edge over other platforms such as iOS. But more important to its general purpose future up against other tablets was the Nook's ability to handle video. It now says it will launch Nook Video in the fall (it is the fall) and this can send content to connected TVs, smartphones and unspecified other tablets via free apps, as well as being compatible with the UltraViolet digital locker platform. This is perhaps the Microsoft angle, that Microsoft will bundle such an App on its Windows 8 devices, including Tablets, and have a ready-made iTunes style alternative.
Nook Video is cloud based, and consumers will be able to synchro-nize video across multiple devices. It has deals with HBO, Starz,Sony Pictures Home Entertainment, the Walt Disney Studios, Viacom and Warner Brothers Entertainment, with more deals on the way. Here we see the influence of Liberty, which of course owns Starz, and hobnobs with all these other studios.
Barnes & Noble is already one of the leading US DVD and Blu-ray retailers, so this is a natural extension to the original business. The Nook Video catalogue will offer Disney-Pixar's Brave and Toy Story 3, Marvel's The Avengers, 21 Jump Street, Awkward, The Artist, Breaking Bad, Dora the Explorer, Spartacus, Magic City, The Walking Dead, True Blood, Game of Thrones, Harry Potter movies, The Dark Knight and The Hangover, which we list so you can see that it's not being half-hearted here in its licensing.
Videos can be both streamed or downloaded from the Nook Store and are stored in the NOOK Cloud, so the content can be enjoyed on other devices via soon-to-be launched free Nook Video apps. As with Nook reading apps, Video apps will allow customers to pick up watching right where they left off on any of their connected devices.
The UltraViolet bit comes in when the customer buys a compatible physical DVD or Blu-ray and then they can link to their UltraViolet accounts to the Nook Cloud so they can watch the same movies on devices which do not have DVD or Blu-ray drives.
To kick off its internationalisation effort, B&N had already made a number of UK announcements at the end of August, including retail deals with catalog retailer Argos and book shops Blackwell's and Foyles, to begin in early October, and with the much larger department store chain, John Lewis.
Now it has named Patrick Rouvillois as its VP International to oversee the company's international expansion. Rouvillois is a French heavyweight who worked at French retailer Carrefour, the No 2 global retailer with 15,000 stores in 30 countries. Previously, he was EVP of Consumer Marketing for Orange, part of France Telecom and also worked at Vivendi, so you can imagine his contact book throughout Europe.
At the same time B&N has added Electronics retailer Dixons to the UK mix, which also controls the PC World and Currys brands. It also added upmarket grocery chains Waitrose and Sainsbury to its UK distribution channels. To those who don't know the UK market, that makes up an exceptionally impressive amount of UK floor space, substantially better in percentage terms than it holds in the US we would have said, and if it does anything similar across Europe, then its dream to separate and flourish from the original US book stores group, will be well under way.
Copyright © 2012, Faultline
Faultline is published by Rethink Research, a London-based publishing and consulting firm. This weekly newsletter is an assessment of the impact of the week's events in the world of digital media. Faultline is where media meets technology. Subscription details here.
Sponsored: What next after Netezza?