Mem-giant Micron laments a doleful year despite cutting costs
Boys from Boise didn't do good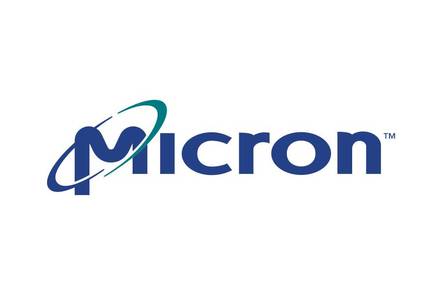 Memory and flash fab operator Micron has reported disappointing results for its fourth fiscal 2012 quarter and the full year.
The basic revenue stats are quarterly revenues of a straight $2 billion, $172 million down on the previous quarter and $140 million down on the year ago quarter. Micron, headquartered in Boise, made a net loss of $243 million, better than the prior quarter's $320 million loss but worse than the year-ago quarter's $135 million loss.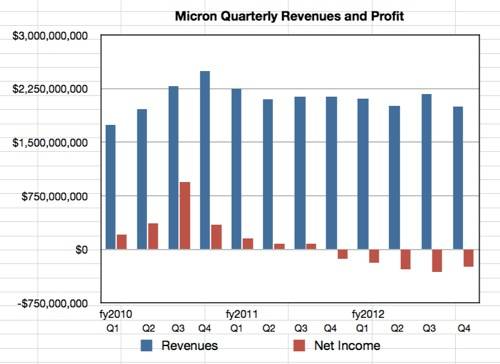 The chart shows the overall picture over the last few quarters, revealing a business that was flatlining after a terrific 2010 year with rising revenues and profits each quarter. We see recent variability with a nice steady curve of losses showing them deepening but now decreasing in the fourth quarter. Although revenue is down 8 per cent on the prior quarter the loss has decreased by 26 per cent.
The full year revealed revenues of $8.2 billion, 1 per cent down on last year, though at this level 1 per cent means $400 million less; these are big numbers. There was a net loss of a massive $1.03 billion which contrasts with the $167 million profit in fiscal 2011. As the chart shows Micron has made a loss in each 2012 quarter.
What did management say about this?
CEO Mark Durcan said: "In 2012, despite difficult market conditions and lower average selling prices, we continued to execute on our technology and manufacturing roadmaps and moved our products increasingly into premium segments. Our focus throughout 2013 is to drive additional cost reductions and advance our leading-edge memory technology to achieve increased manufacturing efficiencies."
Translation: We didn't sell enough product and what we did sell was priced too low because of the dratted competition. That's high-volume semiconductor manufacturing; you have to make chips at lower cost than your competitors, sell them in markets where you can underprice your competitors and still make a profit. Micron didn't. Yet, according to Stifel Nicolaus analyst Aaron Rakers, Micron's flash costs per bit declined by 45 per cent year-on-year in FY2012.
This is a damned difficult business to run.
We're told revenues from sales of NAND products were 14 per cent higher in fiscal 2012 compared to 2011 because the IM Flash Singapore wafer fab ramped up volume 106 per cent. But there was a killer 45 per cent decrease in average selling prices.
NAND represented 43 per cent of Micron's revenues in the year. Of that MLC accounted for 70 per cent of sales, SLC for 15 per cent and TLC also for 15 per cent. Micron expects annual flash bit growth to be in the 50 per cent range from 2012 through to 2016.
Micron is making good progress with its SSD sales, with revenue up 33 per cent on the third quarter. It is shipping client SSD product to five of the top global OEM customers, and its enterprise SSDs are being qualified at leading OEMs. Rakers thinks, contrary to LSI claims, that Micron is the main shipper of PCIe flash cards into EMC for its VFCache product.
He also thinks that Micron may be supplying PCIe flash cards with Virtensys server-area networking via IO virtualisation for use in the EMC Thunder project, a shared flash cache appliance.
Micron is also preparing enterprise SAS and SATA interface SSDs for launch.
DRAM sales revenues 12 percent lower in 2012 compared to 2011. There was a weakness in PC DRAM demand while server demand remained pretty constant. Windows 8 and ultrabooks could drive demand up. Although Micron pumped up DRAM unit sales 59 per cent average selling prices went down 59 per cent. General chip over-production is terrible for fab operators.
The 2013 focus is to cut costs through manufacturing efficiency improvements and to focus more on markets for high-value products, meaning premium pricing. Micron has to have price-cut headroom while retaining profitability and this has to be enabled by lower cost manufacturing. For the next quarter Micron is confident that increased manufacturing efficiencies will cut costs while demand will be high enough to sustain higher prices. The size of any Windows 8 and ultrabook DRAM demand increase is hard to predict.
In the background Micron's Elpida acquisition is progressing although facing opposition from some Elpida bondholders opposed to the losses they will have to incur.
Glory days are not coming back anytime soon for the boys from Boise. ®
Sponsored: How to get more from MicroStrategy by optimising your data stack