Yahoo! CEO! births! bouncing! baby! boy!
Plans return to floundering web portal in '1-2 weeks'
Yahoo! CEO Marissa Mayer added another title to her résumé last night: Mom.
On Monday morning, husband Zachary Bogue, a partner in the investment group Data Collective, tweeted about the blessed event, saying "Baby boy Bogue born last night. Mom (@marissamayer) and baby are doing great--we couldn't be more excited!"
A Yahoo! spokesperson confirmed Bogue's tweet, telling MarketWatch, "Both Marissa and baby are healthy and the family is very excited."
The Yahoo! spokesperson said that Mayer plans to be "working remotely and is planning to return to the office as soon as possible, likely in 1-2 weeks."
Mayer left her executive position at Google in mid-July to join the struggling web portal after former CEO Scott Thompson left in May following a shareholder dust-up and a squabble about his claims to have received a degree in computer science, which a Yahoo! spokesman at the time told The Reg was "an inadvertent error."
Mayer had been employee number 20 at Google, but apparently didn't see much of a future at the Mountain View Chocolate factory. Perhaps her decision was also prompted by the hefty compensation package she received at the beleaguered Yahoo! – one that could total as much as a shade under $60m.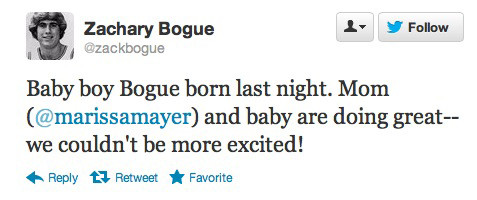 Baby Bogue has landed, Callooh! Callay!
"Baby boy Bogue" may not see as much of his mother as other young 'uns might enjoy, seeing as how Mayer has her work cut out for her in captaining the Good Ship Yahoo!.
That said, Mayer's potential $60m pay package is sure to provide him with the best nanny that money can buy. ®
Sponsored: Detecting cyber attacks as a small to medium business