Gridiron builds mutant monster using NetApp's 'other' array
Engenio plus TurboCharger = flash-handling, data-caching beast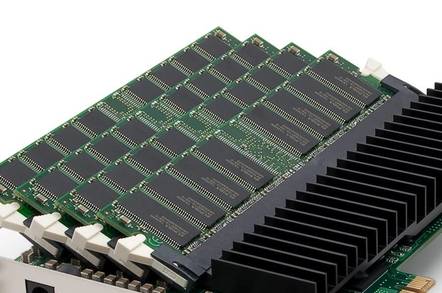 SAN accelerator Gridiron has doubled the performance of its TurboCharger appliance and is building its own SAN using NetApp Engenio drive arrays twinned with the TurboCharger.
The TurboCharger is a cache box sat in front of a Fibre Channel-accessed SAN which speeds up read data access. It has clever software using a set ranking algorithm to work out which data to hold in its DRAM and flash cache. There was a GT-1100 model which came with 6.5TB of flash by default, a 350,000 IOPS capability, and the ability to accelerate SAN of up to 64TB in size, not much in other words.
You could twin two of the appliances together in a high-availability configuration, and scale performance by adding Booster packs, which we think means more flash, or by adding more TurboChargers. Now Gridiron has released the GT-1500 with 12TB of flash, 550,000 IOPS, a 3.2GB/sec bandwidth – the GT-110's bandwidth wasn't revealed – and acceleration of an up to 128TB SAN. It has effectively doubled its performance.
Gridiron did a million IOPS demo in conjunction with NetApp and has now taken that partnership forward by OEM'ing NetApp's E5400 drive array and twinning it with the boosted TurboCharger to produce its Hybrid Flash Array (HFA) product.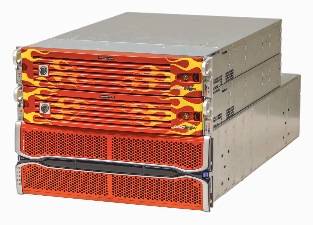 Gridiron HFA
It has 360TB raw capacity in its 8U enclosure, a 6GB/sec bandwidth and does up to 1 million IOPS, suggesting there are two GT-1500s in the product. Gridiron also says it has sub-microsecond latency, which is kind of hard to believe, and enjoys NetApp E-series goodness such as high-availability, replication and synchronisation.
The HFA will compete with other hybrid arrays available from start-ups NexGen, Nimble Storage, Nutanix, Tegile and Tintri. It will also meet mainstream storage vendors' arrays that have both flash and disk in them as well. It is likely to compete on the platforms of superior flash-handling and data-caching and a cheaper pricetag.
The GT-1100 TurboCharger and HFA product are both available now from Gridiron and its resellers. No pricing details were released. ®
Sponsored: What next after Netezza?