Google's disco-dancing uncle Schmidt trashes Apple's patent war
From billion-dollar lawsuits to busting Gangnam Style moves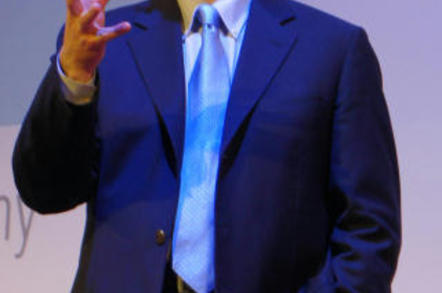 Video Google executive chairman Eric Schmidt launched a thinly veiled attack on Apple on Thursday but declared the iPhone maker a "very good partner" - and then proceeded to dance like an uncle at a particularly awful wedding.
The search giant's big cheese, who was in Seoul for the launch of the Nexus 7 tablet in South Korea, made it clear what he thinks about Apple's global mobile patent war against Android phone and tablet biz Samsung. Google, of course, is the company behind mobile operating system Android, and Samsung is headquartered in South Korea.
"Literally, patent wars prevent choice, prevent innovation and I think that is very bad. We are obviously working through that and trying to make sure we stay on the right side of these issues. So ultimately Google stands for innovation as opposed to patent wars," he said, according to Korea Times.
"I think one of the worst things that happened in the last few years has been the belief that somehow there are so many patents in the mobile phone world, an estimated 200,000 that are overlapping and complicated and so forth, that one vendor can stop the sale of another vendor's phones or devices."
Schmidt met senior Samsung mobile execs during his trip, no doubt to discuss a way through the patent minefield given Apple's $1bn victory in a US court last month.
However, the former Google CEO, who until 2009 sat on the board of Apple, also struck a conciliatory tone, admitting that the fruity tech titan was "actually a very good partner" and that the two firms "are literally talking all the time about everything".
One thing they're presumably not talking about any more is mapping, after the Google Maps app was dropped by Apple in the latest version of its iOS operating system in favour of its own, much criticised satnav-like app.
Schmidt then rounded off proceedings by trying to turn himself into a YouTube sensation, in a badly carefully choreographed routine that involved Korean pop one-hit wonder PSY trying to teach him the dance moves in the group's global smash hit Gangnam Style. If you have not heard of this yoof web sensation, then El Reg congratulates you.
The results, dare you watch, can be seen in this brief clip:
But it's not a patch on what Microsoft's Bill Gates and Steve Ballmer used to get up to. ®