European Commission: Cloud will save us from economic doom
But only if we set standards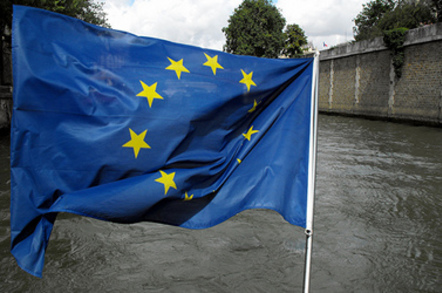 The European Commission is to create cloud computing standards across its 27 member states to spur customer adoption and boost local economies.
Cloud has already been hyped to death in the commercial world and now the EC is adding to the marketing bluster.
It said in its new strategy document – "Unleashing the potential of cloud computing in Europe" – that by 2020 cloud is estimated to generate 2.5 million new jobs and boost GDP by €160bn (£126.8bn) a year.
But to reach that goal the EC said it must cut through the "jungle of technical standards" so that interoperability, data portability and reversibility and necessary standards are in place by 2013.
The plan is also to support an EU-wide certification scheme for "trustworthy cloud providers" and establish "safe and fair" contract terms including SLAs.
The EC also said it will create a European Cloud Partnership – consisting of gov IT procurement officials from all member states – to pull together the public sector's buying power (one-fifth of all IT spending in the region) to shape the market; help local providers gain competitive scale; and deploy cheaper clouds to raise eGovernment services.
The EC has already lost out to the US and Asia in the tech revenue stakes, and EC Vice President Neelie Kroes said: "Without EU action we will stay stuck in national fortresses and miss out on billions in economic gains.
"We must achieve critical mass and a single set of rules across Europe. We must tackle the perceived risks of cloud computing head on," she added.
The strategy document comes months after the Commission said it wanted to update Data Protection Rules to give European businesses clarity on laws that govern where information is stored and who has access to it.
Under the Patriot Act 2001, the US government can demand that US-based cloud providers, even those that are hosted in a sovereign state, make customer data available on request.
In summer 2011, Microsoft's former UK boss Gordon Frazer conceded that the firm had to comply with local laws in its homeland and as such would need to cough customer data.
Ian Moyse, sales director at Brit cloud CRM provider, Workbooks.com, agreed there has been a stir around data sovereignty.
"Customers do not always ask or realise where there data will be stored or under what jurisdiction, and relate back to the importance of firm laws in play on the liabilities companies have over data they hold," he told The Channel.
He pointed to 2012 Cloud Adoption outlook report from the Cloud Industry Forum, which found 47 per cent of UK companies want data stored in the UK.
"An emotive response perhaps, but one to listen to," he said, adding, "Perhaps we are heading back to a degree of 'Buy British' culture for computing in the cloud?"
Guidelines and SLAs could foster public trust in cloud services, said Rick Russ, co-founder and director at cloud storage player Union Solutions.
"It'll also be crucial to assess whether or not the European Cloud Computing Strategy will speed the transformation of IT to a utility model where IT departments can act as an internal service provider". In an ideal world this would allow enterprises to improve corporate efficiencies, streamline operations and expose and reduce costs, he said.
The top three obstacles preventing biz customers moving to the cloud were security, transformation and compliance, HP research indicates.
Ian Brooks, European head of innovation and sustainable computing at HP, told The Channel: "European countries will not see the full benefits of this technology unless steps are taken to deal with the remaining barriers to its adoption and use".
There is no doubt IT is transitioning to the cloud with adoption growing faster among SMEs than corporate customers, said Anthony Miller, managing director at analyst TechMarketView.
But he told The Channel that he struggled to understand how the EC had reached its estimates on employment and revenues gains.
"Technologies involved in the cloud are deflationary - the aim is to make computing cheaper not more expensive. Is the EC saying that SMEs will grow their business that much faster in the cloud? I don't see it," he said.
Getting 27 member states to agree on standards will be no mean feat or a quick exercise, but a speedy resolution is required. ®