iOS 6 maps gets thumbs up ... in China
Partners with local player for better data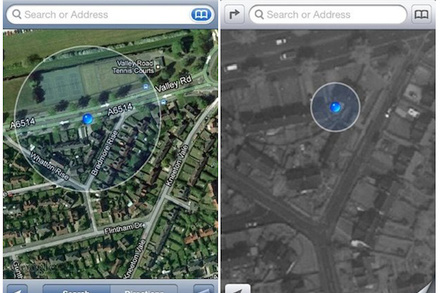 Apple's new Maps app in iOS6 may be getting an absolute pasting in most of the world but is providing surprisingly detailed results for China, where the fruity tech know-it-all has gone with local mapping info supplier AutoNavi.
It's no secret by now that Maps has been one of the most talked-and-complained-about, features of the much-anticipated new operating system.
Not only does it lack many of the local places of interest provided by Google Maps but users have complained of poor resolution, misnamed roads, and entire towns turning up in the wrong place.
The situation has gotten so bad that it appears Apple has even been forced to hire a host of software engineers to fix the problem, including out-of-contract Google mapping bods.
However, in the People's Republic users are treated to a more detailed map experience from AutoNavi, a local firm which has almost 50 per cent market share in the country, according to Wall Street Journal.
AutoNavi has apparently spent years accumulating expertise and mapping data and now powers Baidu Map, China's runaway online maps leader with 86 per cent market share, according to Analysys International.
China-dwelling tech-head Anthony Drendel appeared to confirm the news in a blog post where he claims Apple's effort is better than Google Maps in the country, despite Google also using data from AutoNavi.
It's not all plain sailing for users, however, because Apple hasn't integrated AutoNavi data with info from TomTom, which powers its map app in the rest of the world, WSJ said.
This means that when users within the PRC try to search other countries at street level the map lacks important features such as public transport stops and landmarks. Also missing is spoken driving directions, while switching on the satellite image view will apparently result in the rest of the world being blacked out.
As a footnote, the online mapping industry in China could be about to get even more restrictive for providers if proposed new regulations come into force.
These include increased fines for those who fail to include the complete territory of the PRC when making maps and a requirement that providers place their servers inside China, according to Xinhua. ®