HP pitches four-socketeer Xeon E5 borg boxes
Consolidation is not futile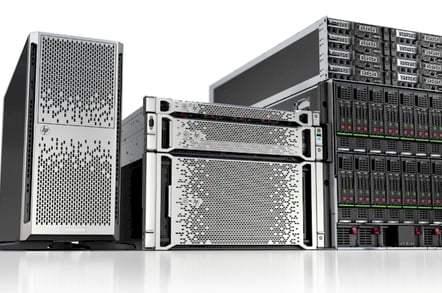 As El Reg readers know, HP has been quietly shipping four-socket rack servers sporting Intel's Xeon E5-4600 servers since August and talking about its four-socket blade since that time, and now the company is finally getting around to formally announcing the boxes and talking up the benefits of four-socketeers for certain workloads.
We spotted the ProLiant BL660c Gen 8 blade server back in mid-August when HP was bragging about its SPEC CPU benchmark test results for the forthcoming machine, and a day later an intrepid El Reg reader spotted the ProLiant DL560 Gen8 machine actually for sale ahead of official announcements.
John Gromala, director of marketing for the Industry Standard Servers and Software division at HP, tells El Reg that volumes of the BL660c Gen8 are ramping now and will be in full volume as September comes to a close – and, obviously, the DL560 Gen8 has been shipping for a few months now. But if you are looking for an ML580 Gen8 tower machine, don't hold your breath. "The tower market for four-sockets is pretty thin," says Gromala, and HP has no plans to build such a box using the Xeon E5-4600 processors.
However, HP is still happy to sell you a racker and have you put it in a data closet where you might have tucked a tower box. And of course you can get a four-socket DL580 G7 using the older "Westmere-EX" Xeon E7-4800 processor as well.
But frankly, unless you need the extra two cores per socket and the extra memory capacity (the E5-4600 tops out at 1.5TB, while the E7-4800 tops out at 2TB), a Xeon E5-4600 box is probably the better – and cheaper – option for a lot of shops looking for something with more oomph and memory capacity than a workhorse two-socket Xeon E5-2600 or Opteron 6200 machine. The Xeon E5 machine only takes up 2U of rack space instead of 4U like its older brother.

HP ProLiant DL560 Gen8 rack server
The ProLiant DL560 Gen8 is able to take Xeon E5-4600s running at from 2GHz up to 2.7GHz with four, six, or eight cores active and with 95, 115, or 130 watt thermal envelopes. As is the case with other Xeon E5-4600 boxes, the DL560 Gen8 has 48 memory slots and tops out at 1.5TB with all four processors in the box. (If you half-populate the processor sockets, you can only use 24 of the memory slots.)
HP is offering registered DDR3 sticks in 4GB through 32GB capacities running at 1.33GHz or 1.6GHz. The box comes standard with three PCI-Express 3.0 slots (two x8 and one x16) and an optional riser that adds three more slots (again, one x16 and two x8). There is another riser that does two x16 slots if you are GPU-happy.
The box has room for five 2.5-inch disks, and supports SAS disk drives ranging from 146GB through 1TB and SATA or SAS SSD drives ranging in capacity from 100GB through 800GB. The DL560 Gen8 has a flexible I/O LAN-on-motherboard (LOM) module, which snaps in to give customers either four Gigabit or two 10 Gibagit Ethernet ports.
Microsoft's Windows Server 2008 R2 and 2012 are supported on the DL560, as are the two latest versions of Red Hat Enterprise Linux (5 and 6), SUSE Linux Enterprise Server (10 and 11), and Oracle Solaris (10 and 11). VMware's ESXi hypervisor and Citrix Systems' XenServer are also supported on the box.
In a base configuration with two four-core Xeon E5-4603 processors running at 2GHz, 16GB of memory, with some disks tossed in costs $6,639; a four-socket configuration with four Xeon E5-4640 processors running at 2.4GHz with 64GB of memory costs $22,609.
Gromala says that companies have two islands of systems these days: two-socket boxes that have their workloads virtualized, and therefore running at a better level of efficiency in terms of server utilization, and four-socket boxes that have not been virtualized because their workloads are too big and the four-socket and eight-socket machines that could handle this work have been a bit on the pricey side.
Enter the ProLiant DL560 Gen8 (and its 2U peers that offer similar capability and pricing) and now just about every workload – databases, email servers, and so on – can be virtualized.
And, adds Gromala, a credible argument can be made for using four-socket Xeon E5-4600 box instead of a pair of Xeon E5s, particularly for virty server instances. Generally speaking, says Gromala, a four-socket Xeon E5-4600 machine can deliver about 30 per cent more compute power than two Xeon E5-2600 machines, and in virtualized environments do so with a cost per virtual machine that is 18 per cent lower. (These are comparisons that are based on VMmark benchmark tests with pricing ginned up by HP itself.)
This could be one of the reasons why China is ga-ga for four-socket boxes, a trend that Intel Data Center and Connected Systems group general manager Diane Bryant discussed with El Reg back in March ahead of the Xeon E5 launches. The other thing you gain is a kind of operational efficiency, like Southwest Airlines did by having only one plane, the Boeing 737, in its fleet.
Here's how HP stacks up the TCO of replacing ten ProLiant DL380 G5 and ten ProLiant DL380 G6 servers that have not been virtualized onto three ProLiant DL560 Gen8 machines: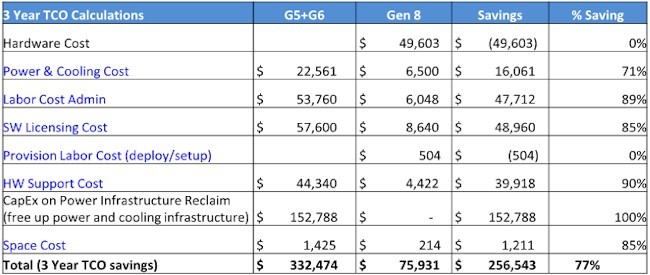 The economics of consolidating old boxes onto DL560 Gen8 servers
By HP's math, the return on investment from swapping out those 20 old DL380 workhorses for three DL560 Gen8 draft horses is 2.9 months. Basically, the cost of buying the new systems is $49,603 and the cost per month of running the old systems (including power, cooling, labor, and such) is a whopping $16,964 per month.
Even if your costs are not that high – and as a tech-savvy reader of El Reg, we have no doubt that you can do better than that with old iron – you could probably get ROI in something closer to a year. The biggest piece of the pie is the amount of power you return to the data center to be used for other gear, so if this is important to your shop, this is how you justify shiny new iron.
Admit it. You want shiny new iron anyway. Who doesn't like that new server smell?
A hefty blade with a porculent memory stick
We caught wind of the BL660c Gen8 blade a few months back, but now the feeds and speeds are out, so are the prices, and as it turns out, so is a new 24GB memory stick that is only available in this chubby Xeon E5-4600 blade.
The BL660c Gen8 is a full-height blade, and is able to cram four sockets into a single-wide space in the HP c3000 and c7000 blade enclosures. That means you can get four of these babies into the c3000 and up to eight in to the c7000 – that is twice as many four-socketeer blades that you can cram into the same enclosures using the BL680c Gen7 server based on the E7-4800 chips from Intel.
Everybody keeps telling me that the E7-4800 line is not dead, but it sure looks like it is sleeping until the "Ivy Bridge-EX" generation comes out, maybe next year.
Any by the way, this blade draws to parity in terms of sockets and main memory with the BL685c G7 based on four Opteron 6200 processors from AMD. The Opteron-based machine can put in 16 cores per socket because the Opteron 6200 is a double-stuffer, as was the Opteron 6100 and will be IBM's Power7+ chip, coming next week.

The ProLiant BL660c
Gen8 blade server
HP is allowing all the SKUs in the Xeon E5-4600 lineup to be slotted into the BL660c Gen blade, which has on 32 memory slots compared to the 48 available in the DL560 Gen8 racker. At the moment, HP is shipping the new blade with single- and dual-rank DDR3 registered memory as well as quad-ranked LRDIMM memory sticks.
Registered memory comes in sizes ranging from 4GB to 16GB, and LRDIMM sticks come in 32GB sizes and are necessary if you want to max the memory out on the box to 1TB. If you are worried about power consumption, HP sells both 1.35 volt and 1.5 volt memory; the LRDIMM module only comes in 1.35 volt flavors.
But starting this Wednesday with the BL460c Xeon E5-2600 blade and in the first quarter with the new BL660c Xeon E5-4600 blade, HP will offer customers a third way, as Tony Blair or Bill Clinton might say. HP has worked with memory suppliers to design and manufacture a three-rank registered DIMM memory stick that packs 24GB of capacity that runs at 1.35 volts and that will be priced at the same level as 16GB RDIMM memory, according to Gromala.
That 24GB stick, says HP, will allow a server to use 35 per cent less power for memory it does for the memory using 16GB sticks (running at 1.35 volts for both modules), and offer about 25 per cent better performance than the 16GB modules.
The BL660c Gen8 blade has two 2.5-inch drive bays, which can be plugged with the usual SAS and SATA disks and flashy SSDs employed across the ProLiant family of machines. The blade has three PCI-Express 3.0 mezzanine slots, which support one x8 and two x16 links.
The system also has FlexFabric LOM units for Gigabit and 10GE network controllers and optional mezzanine cards to add Ethernet, InfiniBand, Fibre Channel, and I/O accelerators to the blade. The same Windows and Linux options are available on the BL660c Gen8 machine as on the DL560 Gen8 box, but Oracle's Solaris is not an option.
HP is taking orders for the BL660c now, and a base machine with two four-core E5-4603 processors spinning at 2GHz plus a mere 4GB of memory will run you $7,835. Loaded up with four eight-core E5-4650s spinning at 2.7GHz and 128GB of memory costs $29,439. ®
Sponsored: Quit your addiction to storage