RIM seeks to woo developers with REO Speedwagon cover
Shows off latest Blackberry 10 build, preps app store
Crumbling Canuck smartphone vendor RIM has taken to song in an effort to keep developers writing for the platform.
In a music video, released for the BlackBerry Jam developers conference that kicked off on Tuesday in San José, California, several RIM staffers rock off a cover of REO Speedwagon's "Keep on loving you", with lyrics adapted to push the message that it's still cool to write for RIM's platform. Developers have been leaving RIM's fold in favor of Apple and Android for some time now, and it's clear RIM is fighting any way it can to keep them on board.
"BlackBerry Is Going To Keep On Loving You" features Alec Saunders, VP of developer relations & ecosystem showing off some impressive vocals – or a lot of Auto-Tune – as well as some impressive looking axe work from Chris Smith, VP of apps platform and tools. If the doomsayers are right, these guys are going to have a great bar-band career if nothing better pops up – they certainly have the moves.
The lyrics, however, need a little work. "We're going to keep on loving you / Our updated SDK is really cool" lacks a little of the power of the original. "And I meant every word I said / When I said that our devs are the heart of our mobile endeavors," needs a little work too, but as music videos go El Reg has seen a lot worse – Microsoft's shockingly bad Vista SP1 effort for example.
Musical shenanigans aside, BlackBery Jam's opening keynote was all about the latest build of its BlackBerry 10 operating system. Delegates got their hands on the latest "BlackBerry Dev Alpha B" handset that is now testing with carriers, CEO Thorsten Heins said. The final release date is still no firmer than Q1 next year, but he demoed some of the features of the system while keeping a few surprises in reserve.
The OS is built around the BlackBerry Hub, which stores all conversations on a central portal, including work emails, BBM conversations, and links to apps from the main social networks, all of which will be supporting the platform at launch. The handset also includes BlackBerry Balance, which sets up a locked-down section of the OS for enterprise applications that can run along side a user's personal phone setup.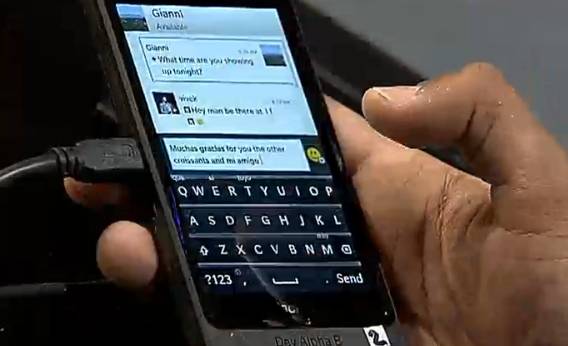 Multi-language text on display at BlackBerry 10
The company will open up its applications store to developers next month, and Heins reasserted the company's "10K Developer Commitment", which guarantees that applications that meet its criteria and sell at least $1,000 of business will be guaranteed a $10,000 payout.
Heins told the assembled developers that RIM has managed to increase its user base to 80 million handsets in the last quarter, and said there'll be plenty of scope for profitable applications and that RIM is determined to fight for its market.
"There is a new culture at RIM, a new energy, and a lot of fighting spirit in this company," he told delegates.
This week is going to be a tough one for RIM. Its latest quarterly figures are due out on Thursday and are expected to be as bad as it gets. All eyes are now going to be on RIM's cash pile to see if it can keep going long enough to start getting a revenue stream that can grow the company again.
Sponsored: Beyond the Data Frontier