Tacky mobile ad networks could kill publishing, survey shows
Audience are leaving, but their dollars don't follow
As if they haven't got enough to worry about: magazines and newspapers are seeing audiences migrate to mobile, but the advertising revenues they need to keep their publications running just aren't following.
Traditionally, advertising eventually catches up with where the audience is – but on mobile, it hasn't. The anxiety is reflected in the UK Association of Online Publishers' (AOP) bi-annual survey - with advertising agencies getting the blame.
More than half of the 1,500 titles surveyed (55 per cent) blamed the ad agencies' reliance on "low value ad networks," according to AOP director Lee Baker, who thinks "ad agencies' attitudes rather than audience size are holding back revenue growth."
He adds: "Buyers have had their fingers burned."
Other factors for the immaturity of mobile advertising are the lack of metrics. It's difficult to measure how well an ad campaign is doing on mobile today, and advertisers have come to expect campaign data.
"We have have real time bidding exchanges for display - that needs to catch up on mobile," says Baker.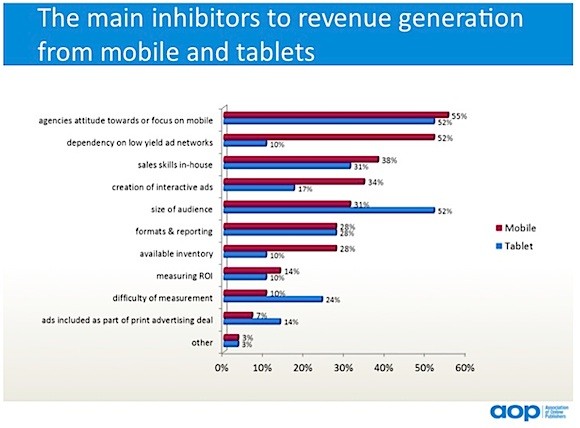 Advertising isn't the only source of revenue; iPad and mobile subscriptions are also a revenue stream. But the industry is hampered by the lack of a common platform that makes signing up to your favourite reads painless and easy. Amazon and Apple offer such a platform – but then gouge the publisher for 30 per cent of revenue.
For Baker, though, the Apple or Amazon tax isn't the biggest issue for publishers: it's the fact that the Walled duo are hoarding subscriber data.
And publishers aren't the only ones hurting; the growing realisation that mobile is hard to monetise was a factor behind the crash in Facebook's stock price. ®