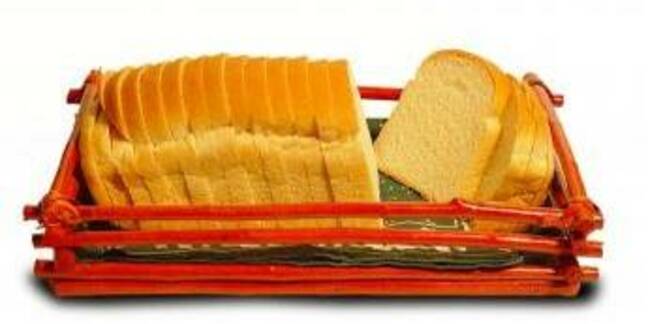 Four storage supplier chief execs have taken a hike in the past week. CEOs at Amplidata, OCZ, STEC and Virident all spun the revolving door.
It's slightly scary that three of the companies are in the flash storage business; their top bosses have gone in a flash, so to speak. Here's a round up of what happened.
STEC
At STEC Manouche Moshayedi, the CEO and board chairman, is facing insider trading charges and resigned to focus on fighting them. He also quit his chairman position, and Kevin Daly takes the top table seat on the board. Manouche's brother, Mark Moshayedi - STEC's COO, CTO and president - becomes CEO in his stead, so the business is still a Moshayedi-run fief.
Manouche Moshayedi has denied the SEC's charges.
OCZ
Over at OCZ, a pugnacious flash storage product supplier, co-founder and CEO Ryan Petersen has simply gone, and EVP and chief marketing officer Alex Mei will fill in until a replacement CEO can be found. OCZ's statement mentioned its "acceptance of Ryan Petersen's resignation as president, CEO and a director of the company" and thanked him. Adam Epstein, OCZ's lead independent director, said: "Though it perhaps goes without saying, there wouldn't be an OCZ without Ryan, and his contributions to the company and to the DRAM and SSD industries are far too numerous to mention. We wish him and his family the very best for the future."
It looks as though Petersen took a hike because OCZ's results have disappointed: an announcement of lower-than-expected second quarter earnings, and a much-reduced share price, followed widespread rumours of a potential acquisition by Seagate and others that came to nought. Following that he had to announce preliminary second quarter fiscal 2013 revenues would be between $120m and $110m instead of the forecast $140m to $130m.
That was attributed to NAND flash component shortages: OCZ has no flash fab tie-up and buys chips on the open market instead. Taking the range mid-points that's a $20 million shortfall. Oops. It represents peanuts sequential growth, 1.2 per cent, and the chart shows sub-10 per cent revenue growth for four quarters in a row: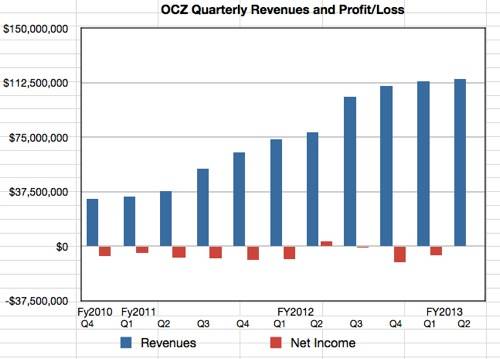 OCZ quarterly earnings with Q2 fy2013 range mid-point added
We hear product development costs are high. OCZ's CFO Arthur Knapp resigned a month ago as well, adding further worry to OCZ's money management area. Shares peaked at $9.41 a piece in January; they are now less than half that at $4.24. This is supposed to be a high-growth company, but instead it's lumbering along with revenues like a mature has-been - and the shares reflect investors' view that OCZ is stagnating in a market that's supposed to be firing all cylinders.
It's got a lot of strengths, such as in-house controller technology and Microsoft as a customer buying OCZ SSDs for its data centres; similar to the deal between Fusion-io and Apple and Facebook. But competition and development is fierce. The big players are joining in the flash storage market, namely Dell, EMC, IBM, Hitachi, NetApp and Western Digital. OCZ simply cannot afford to burn development cash, suffer component shortages, miss revenue targets and screw up acquisition talks all at the same time.
It needs a steady hand at the tiller as well as a forward-looking person who can chart OCZ's way through the flash product technology development jungle with a firm eye on what customers want, which is faster server and workstation apps using flash storage that doesn't fail, doesn't suffer performance degradation, has excellent customer service, is affordable, has a steady development roadmap and a reliable supply chain.
Being brutal, we can say there that OCZ has sometimes failed to deliver in these six areas. There are too many SSD and PCIe flash storage suppliers, and there is going to be a shake out with winners and losers. OCZ needs a CEO who can transform a company that has lost its way into a winner and prevent it becoming a casualty.
Or it needs to be bought and run by a bigger, more mature company and Petersen's ousting could make that more likely. Maybe Seagate fancies being OCZ's sugar daddy.
Amplidata
Mike Wall is the new CEO at object storage startup Amplidata. He gets both hands on the wheel after being executive chairman, guiding CEO and co-founder Wim De Wispelaere who stepped down to become chief technology officer.
There is a similarity to Virident here, which also has announced a new experienced CEO and extra funding. Amplidata's latest chief is accompanied by new funding: $6m, some of which comes from tape and disk protection supplier Quantum. Back in May Quantum announced it was getting into object storage by supplying Amplidata products and integrating Amplidata technology into its StorNext file management software as a streaming big data storage tier, both for private data centre use and as part of a cloud service portfolio.
Wall was Atempo's CEO and president. That company supplied Time Navigator backup software and a digital archive product, and was bought by ASG, a company that had built up a storage product portfolio through a string of acquisitions.
Coincidentally Wall was on Atempo's board and replaced chairman and CEO Neil Ater in November 2011. Could there be a similar pattern of events at Amplidata with an acquisition in the works? There is no mention of this possibility in Amplidata's CEO change announcement, of course. Wall instead talked about "CIOs reinventing their data centres for higher performance at lower cost".
The company is betting that its object storage technology, which it claims provides better than ten to fifteen nines availability, will be a winner - in effect, the biz boldly predicts that its gear would suffer downtime of no more than 3.1 thousandths of a second in a whole year.
The prospect of petabyte-level data stores is making mainstream storage vendors salivate: all that disk, all that management software. Do they go with existing file technology, such as IBM with GPFS, their own object storage, such as EMC with Centera and Atmos, or go for startup technology, such as Dell with Caringo and NetApp's Bycast acquisition? Quantum has chosen a startup with a fresh new, seasoned CEO.
The object of the Amplidata exercise is finding customers that need absolutely secure, petabyte and beyond-level repositories for data, and convincing them that its tech is the best thing since sliced bread. ®
Sponsored: Webcast: Simplify data protection on AWS